Brinkmann offers a wide range of consumer level grills that are readily available at many big-box brick and mortar retailers. With such wide use, there are a number of reviews to take into consideration.
Brinkmann Grill Reviews: Overview
Overall, for a company that offers a wide range of budget level grills, Brinkmann achieves a predictable level of quality and consumer satisfaction. There are a few patterns that emerge when examining many of their most popular models. One of the most common strengths of the grills is their full range of features. Brinkmann does an excellent job of offering the latest features at entry level prices. Unfortunately, in most cases, the entry level price is indicative of an entry level grill. Lack of durability and low build quality are common complaints.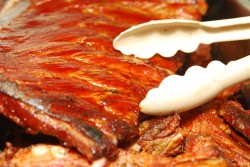 Types of Brinkmann Grills
The major grill types are listed here with their most common pros and cons. They have been separated and broken down here because of the differences in complexity and fuel type.
Charcoal grill reviews: The most common praise for the charcoal grills is their cost effectiveness. The grills are at an ideal price point for the casual outdoor cook. In addition to the low price, Brinkmann makes sure that their charcoal grills have plenty of cooking area. Common remarks by reviewers point out the simplicity of the grill's design, as well as its easy portability and unassuming profile. The overwhelming negative feedback, however, is related to the durability of the grill. Thin metal, flimsy construction, and a finish that easily chips off are the most common complaints.
Gas grill reviews: Brinkmann gas grills have always had a great look in the store. Their modern design and bright colors catch the eye and look very appealing on the patio. One thing that can be said for the grills is that they offer plenty of cooking space. Brinkmann has become very good at maximizing effective grill space. Enhanced features, such as a side burner, secondary grill rack, and optional rotisserie attachments give the grill versatility and allow the outdoor cook to enjoy the latest grill features. However, as with the charcoal grills, Brinkmann gas grills suffer from the same cheap build quality. A common complaint is that the frame will get off center and the doors will not close properly. The grills are also notorious for uneven heating because their burners are made of cheap materials and do not distribute heat very well.
Brinkmann Grill Reviews: Conclusion
At the end of the day, it is undeniable that Brinkmann has gained a place for itself as one of the largest grill manufacturers in the country. While their grills may not be of the highest quality, they are useable and cost effective. For the occasional outdoor cook, a Brinkmann grill will likely suffice for use a few times per season. Over time, it will likely begin to degrade in appearance, but it will still work. For the outdoor chef who envisions using the grill regularly and entertaining at cookouts, most Brinkmann grill reviews agree that the grill is not ideal for such use.
Go back to Grill Reviews Main Page
Go to iGrillBBQ.com Home Page from Brinkmann Grill Reviews