Looking for authentic South American style grilled meat dishes? Check out the following recipe that will give a Latin flare to your next rack of ribs.
It sounds too good to be true, but this recipe is super quick and easy to make. With only a handful of ingredients and minimal prep and cook time, what's to lose?
South American Grilled Meat Dish Information
Preparation time: 5 minutes
Cook time: 15 minutes
Makes: 6
Servings: 6
South American Grilled Meat Dish

Ingredients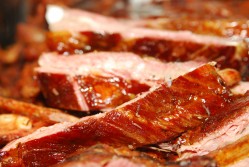 1 Cup of coarse salt, sea salt, or iodized salt (more or less salt may be used)
6 Pounds of beef short ribs
6 Quartered limes
1 Bottle of BBQ sauce (if desired)
South American Grilled Meat Dish Directions
1. Ignite your grill and bring it to medium or medium-high heat. If you are using a charcoal grill be sure to give the coals plenty of time to die down before proceeding with the cooking process.
2. Clean and lightly oil the cooking grate.
3. Apply a generous amount of salt to the ribs (this will help to bring out the fat in the meat).
4. Place ribs on the grill. Regardless of the type of grill you are using, you need to be sure and cook with indirect heat. Keep the ribs away from the center of a charcoal grill or away from the burners of a gas grill.
5. Allow the ribs to cook for about 5 to 7 minutes before rotating for another 5 to 7 minutes (you may choose to cook them for longer if you prefer them more well done).
6. Remove the ribs and squeeze the lime juice over them until completely covered.
7. Serve immediately
Most people balk at the amount of salt that this recipe calls for. However, users testify that the amount of salt prescribed is not excessive. At any rate, you do not need to use the entire cup if you deem it unnecessary.
It is worth noting is that this dish will be greatly enhanced by a freshly tossed salad and/or freshly picked garden vegetables. Grilled potatoes or corn on the cob would also be another side worth considering.
For those with taste buds honed on more American style cuisine, feel free to lather barbeque sauce on the ribs shortly before pulling them off the grill. Diners from a Latin American background, however, might need to include a few additional spices to liven up the experience.
Go back to Beef on the Grill Main Page
Go back to BBQ Recipes Main Page
Go to iGrillBBQ.com Home Page from South American Grilled Meat Dish