Big Green Egg charcoal grills, often known as BGEs, combine the best aspects of a charcoal grill and a smoker. Find out why it's the best!
It's unique shape uses modern ceramic and ancient design to provide optimal airflow for temperature regulation and moisture retention. Anyone who has ever used a BGE will testify to it's unique quality and one of a kind taste.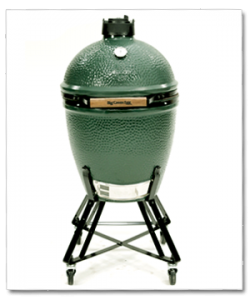 Big Green Egg charcoal grills: Space age materials for backyard cooking
BGE uses a high temperature ceramic clay formula that is derived from the same material that insulates the nose of the space shuttle during re-entry. Because of this high quality ceramic construction, the grill can withstand even the most extreme heat without cracking or suffering structural compromise.
The thick ceramic walls retain heat, conserve fuel, and provide excellent temperature stability for long periods of time. High heat can be achieved because of the insulation, making high temperature searing and flash-fire grilling possible.
Conversely, the thick insulation also allows the fire to burn slowly at low temperatures, making the BGE ideal low temperature smoking.
Big Green Egg charcoal grills

: Good for you, and the environment

BGE recommends using only solid lump charcoal. Many argue that lump charcoal has significant advantages over the more common charcoal briquettes. Briquettes are manufactured as a processed fuel product. They are well suited for grilling because of their regular shape and consistent burn quality.

However, because of the manufacturing process, briquettes often include a number of additives and enhancers. Lump charcoal, on the other hand, uses unprocessed wood and forgoes the use of additives. This allows the charcoal to burn clean and hot, making it the ideal fuel for the BGE.

Lump charcoal is known to burn hotter and more consistently even than charcoal briquettes. The charcoal lights easily in a chimney starter and does not require lighter fluid or pellets. Once the charcoal is burning brightly, it will provide even heat to the BGE whether the chef needs high and fiery temperatures or a low and slow burn.
Big Green Egg Charcoal Grills: Things you can cook
Everyone cooks meat on the grill. Barbecue chicken, buffalo wings, steak, hamburgers, etc. are all commonly grilled items. Often they can be cooked quite well on the average charcoal or gas grill. The natural charcoal used by the BGE imparts a unique smoky flavor to any food, including the typical meats.
What sets the BGE apart however, is it's ability to smoke meat. With a BGE you can achieve great results with fall-off-the-bone ribs and succulent pulled pork barbecue. Vegetables take on an incredible, but subtle, smoky flavor from the charcoal.
The high heat capability combined with a good pizza stone lets a Big Green Egg charcoal grills owner experiment with traditional pizza styles and achieve authentic Neapolitan style pizza at home.
Go back to the Grills by Brand main page.
Go back to the homepage: iGrill BBQ from Big Green Egg Reviews