Have you ever wondered what makes a soup and sandwich shop so popular, especially at lunchtime? Maybe it's the sandwich maker they are using.
Nothing beats a grilled sandwich with melting cheese and a bowl of hot soup; there's just something about using sandwich makers that fits the menu and fills the stomach.
Sandwich Makers: Features
[br]The key to a great sandwich is the melted cheese and of course the grill marks, and a good sandwich maker helps you achieve that goal. With nonstick sides and a flexible hinge, you can turn out perfect sandwiches every time; the flexible hinge is especially important if you want to use thicker slices of bread.
Some grills come with interchangeable plates for different textures and grill lines or even different food items. Be sure to look for a heat-resistant exterior with a built-in thermostat; depending on your preference, you can get a cordless model or one with a built-in plug system. [br]A built-in timer and dinger to let you know when your sandwich is done will free you up to get the soup on and brew some iced tea. And almost all sand wich makers come with a host of recipes to try; you will definitely be thinking outside the box.
Sandwich Makers: Pros and Cons
[br]The great thing about these portable grills (electric sandwich makers) is the versatility; they make so much more than sandwiches. You can cook up ham and cheese omelets, loaded French toast, and even meat dishes. Of course, you are limited to making two at a time, but the combinations are limitless. [br]This small appliance fits anywhere in your kitchen, and it is easy to clean. And for the cost of one trip to the local soup and sandwich shop, you can have your own sandwich maker to try out your own concoctions; who knows you may get your own show on the Food Network.[br][br]
Sandwich Makers

: Is It For You?

[br]If you like a cooked to perfection grilled cheese sandwich with a hot bowl of soup, then you definitely need to invest in a sandwich maker grill. And with a host of top names to choose from, including Cuisineart, Chefmate, George Foreman, Black & Decker, and more, you are sure to find what you are looking for. And don't forget the creativity; with a sandwich maker on the counter, you can dish up a sandwich bonanza fit for a gourmet chef.

Go back to Types of Grills Main Page
Go to iGrillBBQ.com Home Page from Sandwich makers 
Are you looking for great grill flavor without the grief of a grill? Then you should consider the versatility of stovetop grills.
Breakfast, lunch, or dinner— a stovetop grill gives you the flexibility of creativity to prepare any meal for any occasion for any sized group.
Stovetop Grills: Features
[br]Most stovetop grills come with nonstick surfaces that function as a grill on one side and a griddle on the other. They fit over one or more burners on almost any stove top, be it electric or gas; they even work on flat-top stoves. They come in a variety of shapes but primarily rectangular and circular. [br][br]Some even come with stovetop grill pans that you can fill with water to add moisture to your meal as well as to catch the drippings from those tasty morsels you are cooking up; this in turn helps prevent smoke and splatter and makes for easier cleanup. Other features to look for when purchasing a grill for your stovetop include heat-resistant handles for safety in handling and grill presses to squeeze out excess fat or flatten meat or sandwiches.[br][br]
Stovetop Grills: Pros and Cons
[br]The great thing about a stovetop grill, even cast iron stove top grills, is that it is compact and affordable; you can pick up some models for just under $10 or go as high as $100, depending on the features you are looking for, with the average price being around $25. And you do not have to worry about the weather; you can have great grill food during a blizzard. The griddle side allows you to turn out great pancakes, French toast, or tortillas as well as roast delicious, nutritious vegetables. [br][br]Now, you may have to contend with grease splatter and smoke, and there is the fact that the grill can take up half of your stovetop; however, the biggest drawback to a stovetop grill is the time it takes to heat the entire grill evenly. Maintaining even heat can be difficult because of the dead space between the burners, but preheating the grill for 10-15 minutes before cooking will go a long way in solving that problem.[br][br]
Stovetop Grills

: Is It For You?

[br]If you live alone or in an apartment type setting or if you are just looking for a more healthy way to cook, then you should definitely consider getting a grill that fits on top of your stove. The smaller size means easier storage, and you don't have to heat up an entire grill to cook up smaller portions. Also, if you live in an area that is prone to bad weather or cold weather, then being able to grill inside is a big advantage; no more cookout cancellations. A stovetop grill is really for everyone and adds a new dimension to your cooking.

Go back to Types of Grills Main Page
Go to iGrillBBQ.com Home Page from Stovetop Grills
Choosing the right smoker can be a difficult chore. Knowing about different type of smokers can help you save time, money and make sure you are among the satisfied owners of smoker grills.
Smoker grills come in various types and can run from under one hundred dollars to several thousand dollars. But don't worry, the right smoker is out there for you that can do a great job and still fit within your budget.
Smoker Grills: Features
[br]One thing that sets all types of smokers apart from other grills is the "low and slow" feature. The cooking process is usually no less than a few hours and can last days.
Whatever the flavor, usually determined by the type of wood that is the source of the smoke, it thoroughly penetrates the meat. They all have racks and a firebox with vents and a water pan for controlling temperature, airflow and moisture.
Like conventional grills, smokers can be fueled by gas, charcoal, electricity and wood.
Smoker Grills: Pros and Cons
[br]When choosing smokers, the first step is knowing the different types of smokers. After you do your homework and know what your choices are you will see that all smokers do not work the same way and some types have features that others do not. Types of smokers include:
Vertical water smokers.  If you are new to smoking, a vertical water smoker is ideal. It looks like a garbage can containing racks, a fire pit and a water pan for regulating temperature and moisture.

Pros: fuel choice; ease of use; portable; affordable; efficient
Cons: need to watch temperature with care; many cheap and flimsy models out there

Electric smokers. Due to ease of use, has become a popular fuel.

Pros: can fuel all types of smokers; the easiest fuel for cleaning and maintaining; set it and forget it until the meat is done
Cons: lack of portability; must have power source.

Offset smokers.  Offset smokers are for the serious minded smoker, whether you are a professional or dedicated amateur. Designed for those who definitely not in a hurry. The offset smoker separates the firebox from the smoking chamber. This offset means that the meat gets only indirect heat and has little chance of burning. The heat and smoke have to pass through a baffle before being drawn through the smoking chamber and over the meat and out the chimney.

Pros: large chamber can hold a lot of meat of several varieties at once; little chance of burning meat
Cons: cheaper units may not seal tight and have inconsistent temperatures; generally more expensive
Smoker Grills

: Is It for You?

[br]Perhaps this give you an idea of what to look for if you are new to smoking. You have various types of smokers and fuel options. The types mentioned here should serve anyone thinking of getting into smoking very well. Do your research on smokers, take your time and you will soon be cooking fabulous bbq with the best of them.

Go back to Types of Grills Main Page
Go to iGrillBBQ.com Home Page from Smoker Grills
Looking for authentic South American style grilled meat dishes? Check out the following recipe that will give a Latin flare to your next rack of ribs.
It sounds too good to be true, but this recipe is super quick and easy to make. With only a handful of ingredients and minimal prep and cook time, what's to lose?
South American Grilled Meat Dish Information
Preparation time: 5 minutes
Cook time: 15 minutes
Makes: 6
Servings: 6
South American Grilled Meat Dish

Ingredients

[br]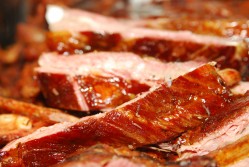 1 Cup of coarse salt, sea salt, or iodized salt (more or less salt may be used)
6 Pounds of beef short ribs
6 Quartered limes
1 Bottle of BBQ sauce (if desired)
South American Grilled Meat Dish Directions
[br]
1. Ignite your grill and bring it to medium or medium-high heat. If you are using a charcoal grill be sure to give the coals plenty of time to die down before proceeding with the cooking process.
2. Clean and lightly oil the cooking grate.
3. Apply a generous amount of salt to the ribs (this will help to bring out the fat in the meat).
4. Place ribs on the grill. Regardless of the type of grill you are using, you need to be sure and cook with indirect heat. Keep the ribs away from the center of a charcoal grill or away from the burners of a gas grill.
5. Allow the ribs to cook for about 5 to 7 minutes before rotating for another 5 to 7 minutes (you may choose to cook them for longer if you prefer them more well done).
6. Remove the ribs and squeeze the lime juice over them until completely covered.
7. Serve immediately
Most people balk at the amount of salt that this recipe calls for. However, users testify that the amount of salt prescribed is not excessive. At any rate, you do not need to use the entire cup if you deem it unnecessary.
It is worth noting is that this dish will be greatly enhanced by a freshly tossed salad and/or freshly picked garden vegetables. Grilled potatoes or corn on the cob would also be another side worth considering.
For those with taste buds honed on more American style cuisine, feel free to lather barbeque sauce on the ribs shortly before pulling them off the grill. Diners from a Latin American background, however, might need to include a few additional spices to liven up the experience.
Go back to Beef on the Grill Main Page
Go back to BBQ Recipes Main Page
Go to iGrillBBQ.com Home Page from South American Grilled Meat Dish
Lots of people might know the best way to grill ribs on a gas grill, but few can actually pull it off. Want to give it a try?
If you need some direction for doing ribs on a gas grill, look no further. This handful of tips will help guide you down the road of success.
How to Grill Ribs on a Gas Grill: Using Smoke Bombs
One of the biggest challenges facing those who would learn to grill ribs on a gas grill is the difficulty of turning out ribs that have a genuine smoked flavor. Therefore, some gas grill owners opt to use smoke bombs in the bottom of their grills to try and create a smoke concentration during the cooking process.
To make a smoke bomb for your grill take a handful of damp (not wet) wood chips and wrap them up in an aluminum foil ball. Then poke a couple of holes in the thinnest layer of foil to allow the smoke to escape. You may use as many bombs as you wish, but you should probably use at least two.
Preheat the grill and place the smoke bombs as close to the burner as possible. When the bombs start smoking, dial down the heat and prepare begin cooking your ribs.
How to Grill Ribs on a Gas Grill: Using Indirect Heat
[br]Grilling ribs over indirect heat is not usually a good idea, particularly with a gas grill. You need to find a way to position the meat as far away from the burners as possible. If you are also cooking other food on the grill as well this may require some spatial negotiation.
Another factor to take into consideration is the location of the burners on your grill. Their positioning underneath the grate will determine how you need to arrange the ribs so as to avoid direct heat.
How to Grill Ribs on a Gas Grill

: Using Apple Juice

[br]When the ribs are about three quarters of the way done it is a good idea to steam them with apple juice. Do this by first placing a layer or layers of aluminum foil underneath the meat. Then, trickle the juice over the ribs and wrap the foil around them to create as much of an air-tight seal as possible.

Along with the smoke flavor, this extra step will make a big difference in the final product.

Learning to grill ribs on a gas grill can be tough, but congratulations for being willing to give it a try.

Go back to BBQ Tips Main Page
Go to iGrillBBQ.com Home Page from How to Grill Ribs on a Grill
Have you ever wondered how to grill corn on the cob without the husk? The fact is that sometimes, for whatever reason, the husks are just not available.
Fortunately, corn cobs can be cooked on the grill quite effectively even if you don't have any husks in which to wrap them.
How to Grill Corn on the Cob without Husks: Wrapping the Cob
[br]Since you don't have husks to wrap the cobs, the next best thing to use is aluminum foil. Break each cob in half then cut rectangular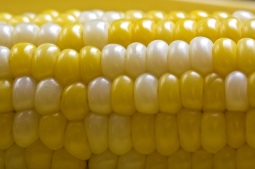 pieces of foil in which to wrap them.
Those who have learned how to grill corn on the cob without the husk find it helpful to insert a skewer into each half cob before cooking. This should give you a sufficient handle for holding and transporting the cobs to and from the grill.
Grilling Corn without Husks: Seasoning the Cob
[br]Butter and salt are by far the most common ingredients used to season corn on the cob. You should apply these to the corn before wrapping up the cob in aluminum foil. After adding the butter and seasonings, the cobs should be ready for the grill.
Some people who are familiar with how to grill corn on the cob without the husks prefer to get creative with their seasonings. Instead of butter and salt they use things like olive oil, black pepper, chopped onion, minced onion, or garlic powder. Go ahead and get creative with new combination of seasonings.
How to Grill Corn on the Cob without Husks

: Cooking the Cob

[br]If your grill has a top rack that is the best place to put the corn. Even if your grill doesn't have a top grate, you can still locate the cobs to the extremities of the grill so as to prevent them from either cooking too fast or over cooking.

Cooking cobs of corn on the grill needs to be done very slowly. Plan to turn the cobs regularly, probably every 3-5 minutes, so that they don't end up scorched on any particular side.

You can test the corn before removing it from the grill to see if it has finished cooking. Unwrap one of the cobs, being careful not to burn yourself, and poke the kernels with your finger. If they are soft to the touch then the corn is done.

With the help of these simple suggestions, figuring out how to grill corn on the cob without the husk can be a cinch.

Go back to BBQ Tips Main Page
Go to iGrillBBQ.com Home Page from How to Grill Corn on the Cob without Husks
If you aren't sure how to grill corn on the cob with foil, take a few seconds and check out these helpful hints. You probably don't realize how easy it is.
By paying attention to these couple of tips, you can make your guests mouth water at the sight, smell, and taste of grilled corn on the cob.
How to Grill Corn on the Cob in Foil: Wrapping the Cobs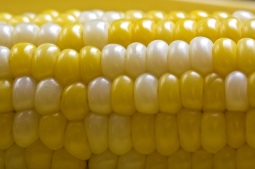 [br]Before putting the cobs in aluminum foil it is always necessary to soak or boil them in water ahead of time. Otherwise, you will end up with dried and hardened kernels that will turn your stomach rather than make your mouth water.
Most people who know anything about how to grill corn on the cob with foil prefer to apply butter and seasonings both before and after grilling. Once the corn is buttered and seasoned, it should be wrapped completely in aluminum foil. If the entire cob is not thoroughly enclosed in the foil then it will not steam on the grill as intended.
How to Grill Corn on the Cob in Foil: Placement on the Grill
[br]You need to be particular about where on the grill you choose to place your cobs. If your grill has a top rack, you definitely want to put them up there. If not, just do your best to keep them off to the sides of the grate away from the more intense heat in the middle.
Rotate the cobs frequently so they don't get too well done on one side. Also, try to be aware of which parts of the grill are hottest and move the cobs around so that they cook evenly.
How to Grill Corn on the Cob in Foil

: Seasonings for Taste

[br]Once the corn comes off the grill give it a fresh coat of butter and shower it with a seasoning ingredient of your choice. Nothing beats a fresh cob of corn hot off the grill dripping with butter.

Butter and salt are the traditional ingredients used to season corn on the cob. However, you should not feel constrained to use them exclusively. Go out on a limb and try some new spices for a change. For instance, consider sprinkling garlic salt or oregano over the freshly buttered kernels. Also keep in mind that olive oil offers a healthy substitute for butter.

Now that you have some pointers about how to grill corn on the cob with foil, there is no excuse for not giving it a try.

Go back to BBQ Tips Main Page
Go to iGrillBBQ.com Home Page from How to Grill Corn on the Cob with Foil
Figuring out the best way to grill chicken thighs does not have to be an exercise in futility. Try these handy tips for doing chicken thighs on the grill.
Some people seem to think that the breast is the only part of a chicken that can be cooked effectively with a grill. Fortunately, this is not the case.
How to Grill Chicken Thighs: Preparing the Meat
[br]In the preparation stage, make sure to remove as much of the excess fat as possible. Fat will melt and drip onto the coals causing flare ups. Flare ups will scorch the exterior of your meat and make it looked burned.
You also want to wash the meat thoroughly, especially if you plan to season the pieces before placing them on the grill. Seasoning your chicken before grilling is a great way to maximize the flavor. Keep in mind that more important than the type of seasoning you use is how you apply it. As much as possible, you should try to get the seasoning directly onto the meat because the skin acts like a barrier and prevents the flavor from infiltrating the meat.
How to Grill Chicken Thighs: Cooking the Meat
[br]Use a wire brush to clean the grate before placing your meat on the grill. Then, apply a small amount of vegetable oil to the grate to prevent the meat from sticking.
If you ask any pro about grilling chicken thighs he will tell you to cook them slowly under medium to low heat. Position the meat toward the extremity of the grill grate. Keep a close watch for flare ups. If the flames flare up from melted fat dripping into the fire you can either remove the chicken from the grill till the fire dies down, or you can grab the meat with tongs and shake the liquid fat off into the fire or onto the ground.
Check the meat periodically and turn over when the bottom becomes firm and brown. Rearrange the pieces on the grill as necessary if one area is cooking faster than another.
How to Grill Chicken Thighs

: Finishing the Meat

[br]Shortly before the chicken thighs are finished, close the vents on your grill and douse the meat with several layers of barbecue sauce. Let the chicken sit on the grill for just a couple of minutes afterward to give the sauce time to seep into the meat. If you want, you can turn the chicken and repeat this step prior to removing it from the grill. These grilled chicken thighs will be yummy!

Dispel any doubt that grilling chicken thighs is easy by following these couple of helpful suggestions.

Go back to BBQ Tips Main Page
Go to iGrillBBQ.com Home Page from How to Grill a Chicken Thigh
Do you love tuna, but think that an Ahi tuna recipe for the grill would be too much of a hassle? Then you need to try out this mouthwatering tuna fillet.
Nothing says summertime barbecue like a honey lime glazed grilled Ahi tuna fillet. Best of all, these delicious entrees are easier to make than you think.
Grilled Ahi Tuna Recipe with a Honey Lime Glaze
[br]Prep Time: 15 minutes
Cook Time: 5 minutes
Makes: 4 Tuna Fillets
Servings: 4
Honey Lime Glazed
Grilled Ahi Tuna Recipe

Ingredients

[br]2 juiced limes

¼ cup olive of oil

2 Tablespoons of rice vinegar

2 cloves of crushed and minced garlic

1 Tablespoon of fresh grated ginger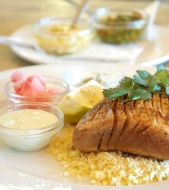 4 six-ounce Ahi tuna fillets
¼ cup honey
Salt and fresh ground pepper to season
Vegetable oil , for grill grate as needed
Honey Lime Glazed Grilled Ahi Tuna Recipe Directions
[br]1. Use a whisk to combine the lime juice, olive oil, rice vinegar, garlic, and ginger in a mixing bowl. This mixture will create a glaze in which to marinate the fillets.
2. Place the tuna fillets on a large plate and season them lightly with the salt and pepper.
3. Use about half of the glaze mixture to coat the fillets evenly on both sides. Set aside the remaining half of the glaze mixture to be used in a subsequent step.
4. Put the plate with the fillets in the refrigerator and allow them to marinate for about 30 minutes. You may marinate them longer than the prescribed 30 minutes if you so desire.
5. Add the honey to the leftover portion of the glaze mixture and mix well.
6. Begin heating an outdoor grill on a high setting.
7. Lightly oil the grates of the grill when they get hot enough to cook and place the fillets gently on the grates.
8. Allow the meat to cook for approximately 2 minutes, then turn the fillets over and spread a layer of honey lime glaze on the grilled side.
9. Continue cooking for about 2 more minutes. This should bring the meat to medium-rare/medium. For more thoroughly cooked meat leave on the grill for a couple of more minutes both here and on the previous step. Be careful not to scorch or overcook.
10. Remove from the grill and brush the remaining honey lime glaze over the other side of the fillets.
11. Ready to serve along with any glaze that might be leftover.
Score a hit with this terrific recipe for Ahi tuna.
Go back to Tuna on the Grill Main Page
Go back to BBQ Recipes Main Page
Go to iGrillBBQ.com Home Page from Grilled Ahi Tuna Recipe
A Bakers and Chefs grill is quick to assemble, easy to use, and competitively priced. For an optimum grilling experience, don't overlook what these grills have to offer.
What you will get is a model from a line of premium gas grill that will be sure to make any outdoor barbecue a cinch.
Bakers and Chefs Grills: Information
[br]These grills are produced exclusively by Sam's Club. Customers praise them for their ease of use and durability. Several consumers have discussed their efforts to convert the type of fuel that the grill uses. By and large these efforts were successful, leading to positive customer reviews.
The Sam's Club website provides an easy-to-navigate section of its website where customers can order replacement parts. In particular, the burners on a Bakers and Chefs grill will sometimes wear out more quickly than other parts.
Most reviews were positive when indicating customer satisfaction with the replacement service they received. One problem that a few customers noted was that food can tend to stick to the grate of the grill. This, however, does not seem to be a problem with the grill itself, but with the preparation of the grate prior to grilling. A number of reviewers mentioned that if you grease or oil the grate immediately before placing food on it, the food has much less of a tendency to stick and fall apart.
Bakers and Chefs Grills: Models
[br]The most popular of these models is the Main Event Grill. This is a durable, long-lasting gas grill. Customers rave about its ability to handle large quantities of food on a regular basis for extended periods of time. This seems to be an ideal component for a successful company or church outing. It could also serve well as an addition to a roadside barbecue stand.[br][br]
Bakers and Chefs Grills

: Are They Right for You?

[br]Most of the grills available appear to be more along the lines of industrial sized grills. If you typically grill for small groups on an infrequent basis one of these models might be overdoing it a little bit. However, if you are a grilling enthusiast or if you run a concession stand, something in this line of Bakers & Chefs grills is probably just what you need. Check out what they have to offer and see how you can take your grilling skills and experience to the next level. You won't be sorry you did.

Go back to Grill Brands Main Page
Go to iGrillBBQ.com Home Page from Bakers and Chefs grill