Do you love tuna, but think that an Ahi tuna recipe for the grill would be too much of a hassle? Then you need to try out this mouthwatering tuna fillet.
Nothing says summertime barbecue like a honey lime glazed grilled Ahi tuna fillet. Best of all, these delicious entrees are easier to make than you think.
Grilled Ahi Tuna Recipe with a Honey Lime Glaze
Prep Time: 15 minutes
Cook Time: 5 minutes
Makes: 4 Tuna Fillets
Servings: 4
Honey Lime Glazed
Grilled Ahi Tuna Recipe

Ingredients

2 juiced limes

¼ cup olive of oil

2 Tablespoons of rice vinegar

2 cloves of crushed and minced garlic

1 Tablespoon of fresh grated ginger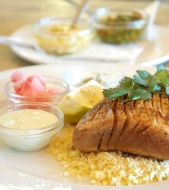 4 six-ounce Ahi tuna fillets
¼ cup honey
Salt and fresh ground pepper to season
Vegetable oil , for grill grate as needed
Honey Lime Glazed Grilled Ahi Tuna Recipe Directions
1. Use a whisk to combine the lime juice, olive oil, rice vinegar, garlic, and ginger in a mixing bowl. This mixture will create a glaze in which to marinate the fillets.
2. Place the tuna fillets on a large plate and season them lightly with the salt and pepper.
3. Use about half of the glaze mixture to coat the fillets evenly on both sides. Set aside the remaining half of the glaze mixture to be used in a subsequent step.
4. Put the plate with the fillets in the refrigerator and allow them to marinate for about 30 minutes. You may marinate them longer than the prescribed 30 minutes if you so desire.
5. Add the honey to the leftover portion of the glaze mixture and mix well.
6. Begin heating an outdoor grill on a high setting.
7. Lightly oil the grates of the grill when they get hot enough to cook and place the fillets gently on the grates.
8. Allow the meat to cook for approximately 2 minutes, then turn the fillets over and spread a layer of honey lime glaze on the grilled side.
9. Continue cooking for about 2 more minutes. This should bring the meat to medium-rare/medium. For more thoroughly cooked meat leave on the grill for a couple of more minutes both here and on the previous step. Be careful not to scorch or overcook.
10. Remove from the grill and brush the remaining honey lime glaze over the other side of the fillets.
11. Ready to serve along with any glaze that might be leftover.
Score a hit with this terrific recipe for Ahi tuna.
Go back to Tuna on the Grill Main Page
Go back to BBQ Recipes Main Page
Go to iGrillBBQ.com Home Page from Grilled Ahi Tuna Recipe