Have you ever wondered how to grill corn on the cob without the husk? The fact is that sometimes, for whatever reason, the husks are just not available.
Fortunately, corn cobs can be cooked on the grill quite effectively even if you don't have any husks in which to wrap them.
How to Grill Corn on the Cob without Husks: Wrapping the Cob
Since you don't have husks to wrap the cobs, the next best thing to use is aluminum foil. Break each cob in half then cut rectangular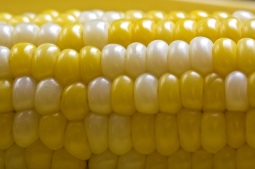 pieces of foil in which to wrap them.
Those who have learned how to grill corn on the cob without the husk find it helpful to insert a skewer into each half cob before cooking. This should give you a sufficient handle for holding and transporting the cobs to and from the grill.
Grilling Corn without Husks: Seasoning the Cob
Butter and salt are by far the most common ingredients used to season corn on the cob. You should apply these to the corn before wrapping up the cob in aluminum foil. After adding the butter and seasonings, the cobs should be ready for the grill.
Some people who are familiar with how to grill corn on the cob without the husks prefer to get creative with their seasonings. Instead of butter and salt they use things like olive oil, black pepper, chopped onion, minced onion, or garlic powder. Go ahead and get creative with new combination of seasonings.
How to Grill Corn on the Cob without Husks

: Cooking the Cob

If your grill has a top rack that is the best place to put the corn. Even if your grill doesn't have a top grate, you can still locate the cobs to the extremities of the grill so as to prevent them from either cooking too fast or over cooking.

Cooking cobs of corn on the grill needs to be done very slowly. Plan to turn the cobs regularly, probably every 3-5 minutes, so that they don't end up scorched on any particular side.

You can test the corn before removing it from the grill to see if it has finished cooking. Unwrap one of the cobs, being careful not to burn yourself, and poke the kernels with your finger. If they are soft to the touch then the corn is done.

With the help of these simple suggestions, figuring out how to grill corn on the cob without the husk can be a cinch.

Go back to BBQ Tips Main Page
Go to iGrillBBQ.com Home Page from How to Grill Corn on the Cob without Husks