If you know how to grill chicken on the stove, you can bring that outdoor goodness right into your kitchen. All you need is the right equipment and the right techniques.
Here are some tips to help with grilling chicken on the stove.
How to Grill Chicken on the Stove: Start with a Cast Iron Grill Pan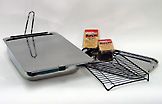 Indoor grilling is a convenient and healthy way to cook while bringing out the fun and flavors of outdoor grilling. A grill pan, sometimes called a riffle pan, can convert any stove top into a grill. Get a good heavy cast iron grill pan that is already seasoned so it will not stick. These pans are cheap, easy to clean, easy to maintain, last a lifetime and it can be put right into the oven.

How to Grill Chicken on the Stove:Start with Good Ingredients
Do not compromise on the quality of the chicken. Get the best you can afford. Organically raised chickens are the best in both taste and healthy eating, but they are expensive. So called "all natural" is still quite good and a little cheaper. You should try, at the very least, to get free-range quality chicken.
Check this out! Makes a great gift!=> Athena 6300 Max Burton Stove Top Smoker pack of 4

If you have to settle for grocery store off the shelf chicken, search out the brand that injects the least amount water and other chemicals into the bird. You many also want to invest in a instant-read meat thermometer. With chicken, you have very little room between under cooked, with unpleasant thoughts of salmonella, and overcooked, with the meat having the dry, hard texture of footwear.
The thermometer helps you find that narrow range of tasty juiciness that eludes so many cooks while giving piece of mind that the chicken is cooked thoroughly. Your indoor grilled chicken will be be guaranteed done at 165°F.
How to Grill Chicken on the Stove: Grilling it Right
For perfectly grilled chicken every time use the following tips. Turn up the burner to high with the grill pan on top of your stove. You can heat it up until you have to turn on the exhaust fan because the pan is smoking a bit. Coat the chicken in olive oil and coat it with your favorite seasoning.
Once in lifetime opportunity! => Athena 6300 Max Burton Stove Top Smoker pack of 4
Put the chicken in the hot pan for one and half minutes per side so it is seared with distinct grill marks. Then turn the heat down to medium (375°F) and continue cooking. Usually it will be about five minutes per side, but be careful not to over cook. This is when the thermometer comes in handy and you can start checking for done chicken.
After the chicken is finished, take it out of the  grill pan and let it set a while before serving. Cooling a little lets the juices flow back to the center of the meat, insuring it is soft and moist. You can serve it up and show everyone you know how to grill chicken on the stove.
Go back to BBQ Tips Main Page
Go to iGrill BBQ.com Home Page from how to grill chicken on the stove