A built in grill is a bold and sizzling way to add equity to your home and beef up your overall grilling experience.
Bar-b-que grills like this are increasing in popularity as many are discovering the perks of owning one for themselves.
Built in Grills: Features
So what makes this such a hot item? Many find that they eliminate the hassles that tend to go along with outdoor grilling. They also set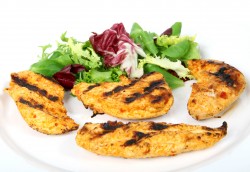 up the perfect basis for creating an outdoor kitchen area. They come with a variety of desirable features such as warming drawers or cocktail stations – or whatever else you may dream up.
As with other types of grills, many different models are available such as propane, natural gas, propane, duel fuel, and hardwood, as are many different sizes.  When it comes to your grilling needs, you should be able to find a style of this grill that will suit your needs perfectly.
Built in Grills: Pros and Cons
When you build a grill into your outdoor living area, you are increasing the value and saleability of your home. This is definitely a perk. And as already mentioned, there are many features which can be added that other types of grills don't offer. They're also easy to assemble, safer to use, and they're known to provide flawless heat distribution which ensures your food will turn out just as you planned. Perhaps one of the downsides to built in bbq grills is their initial cost, but when viewed as an investment, most find it to be well worth it.
Built in Grills

: Is it for you?

What it seems to boil down to then is whether or not a grill like this is for you. It depends on what you are wanting out of your grill.  They have been referred to by many as an essential or must-have item, and are not going to be fading out anytime soon. If you are looking to do a little grilling at a park, a standard portable charcoal grill is fine, but if you're looking to take your at-home grilling experiences to the next level – a built in grill is where it's at.

Go back to Types of Grills Main Page
Go to iGrillBBQ.com Home Page from Built in Grills