A great marinade for pork tenderloin has the ability to make an already-good cut of meat extraordinary. This one is great!
By not only tenderizing the meat but also infusing it with new flavors, a marinade can take your pork barbeque meal to the next level.
This marinade recipe is one of the best available. As with any marinade, feel free to personalize it with your own secret ingredients, such as artificial flavorings or sauces:
Grilled Pork Tenderloin Marinade Info
Prep time: 5 minutes
Cook time: 5 minutes
Makes: 1 cup marinade
Servings: N/A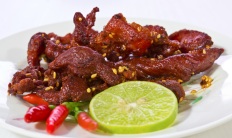 If you have a larger amount of meat, consider increasing the ingredients in the marinade. You should have enough marinade to just cover the meat in whatever container you use.
Grilled Pork Tenderloin Marinade

Ingredients:
1/2 cup soy sauce
1/4 cup teriyaki sauce
2 tablespoons liquid smoke flavoring
1/4 teaspoon onion powder
1/4 teaspoon garlic powder
Grilled Pork Tenderloin Marinade Directions:
Simply combine ingredients in a shallow container and allow your meat to soak as long as desired. Turn meat periodically during marination for an even saturation. The longer your meat soaks, the more tender and flavorful it will become.
Be sure to keep the marinading meat in the refrigerator to keep it at a safe temperature. During the grilling, you can brush the remaining marinade on the meat to enhance the flavor even further and keep it as moist as possible.
Some reviewers of this recipe noted that the liquid smoke flavoring added a rather strong element to the marinade. Of course, you can use less to balance the flavor, or you can add an alternate flavor that is more to your taste if desired.
Ideally, a marinade should be personalized, so after trying this recipe out, continue to experiment with your own favorite flavors to perfect it. To round out the meal, put some sliced potatoes, zucchini, and sliced bell peppers on the grill as well to serve along with your signature tenderloin.
Barbeque experts know that the secret to making a great-tasting meal on the grill is often a good marinade, and with this pork tenderloin marinade, you can make the most of your next cookout.
Go back to Sauces for the Grill Main Page
Go back to BBQ Recipes from Tenderloin Marinade
Go to IGrillBBQ.com Home Page from grilled pork tenderloin marinade