Bubba Keg grills have a unique shape that catches the eye. Maybe you have seen one such grill and wondered if its odd shape is anything more than just a cosmetic novelty.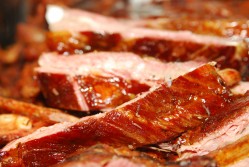 The shape of the grill is for more than just looks. The shape takes advantage of the unique properties of charcoal to maximize the heat and flavor they produce.
Bubba Keg Grills: Unique Shape, Unique Flavor
Bubba Keg's grill lineup uses the unique benefits of the kamado grill style to maximize heat distribution and minimize moisture loss in the food. Kamado cookers have been used for centuries in Asia because of their cooking advantages. The shape of the grill creates a natural draft from the bottom of the grill (or "keg") to the top. This shape draws heat from the flames to the grilling area evenly, which makes the cooking surface heat evenly and helps the fuel to burn evenly. Unlike most kamado grills, however, the Bubba Keg is made of enamel coated steel rather than the traditional clay or ceramic. Because of its steel construction, the Bubba Keg is more mobile than other kamados. The differences between ceramic construction and steel construction are not all advantages, however. Visit our Bubba Keg grill reviews section to see what the consumers say.
Benefits of Stable Heat and Fuel Efficiency
One of the advantages of the kamado shape is its fuel efficiency. Bubba Keg took the kamado's fuel efficiency to the next level by sandwiching a layer of oven insulation inside the enamel-coated steel grill body. The result is a grill that can be an 800 degree inferno on the inside with very little heat loss on the outside. As a result, a very small amount of charcoal goes a long way in the Bubba Keg. When you are done grilling, just shut all of the air supply doors to snuff out the flame. The grill will be ready to light next time you open the lid.
Bubba Keg Grills: Ready To Go Wherever You Are
Because of its steel construction, a Bubba Keg grill is very portable. Traditional clay or ceramic kamados are easily cracked, especially during transportation. Even a small, sustained vibration if placed properly can break a ceramic cooker in half. This is not a problem with the Bubba Keg. The steel grill is designed with portability in mind and can be hooked up to a trailer hitch for easy transportation to a party or for tailgating.
Return to Grill Brands main page
Return to the iGrillBBQ home page from Bubba Keg Grills