Getting replacement parts for your grill is not hard and does not have to be expensive. If yours is out of commission, why wait any longer to fix it up?
The following lists identify brand name companies as well as grill parts available for various models. Check it out to see what is available.
Grill Replacement Parts by brand
Grill Parts (by brand)

Aussie Grill Parts
Brinkman Grill Parts
Coleman Grill Parts
DCS Grill Parts
Ducane Grill Parts
Fiesta Grill Parts
George Foreman Grill Parts
Grand Hall Grill Parts
Holland Grill Parts
Kenmore Grill Parts
Members Mark Grill Parts
Members Mark Grill Parts
Perfect Flame Grill Parts
Uniflame Grill Parts
Vermont Castings Grill Parts
Weber Grill Parts
Grill Replacement Parts for these models include:
Adapter hoses, cooking grates, stainless steel burners, igniter kits, propane tank refill adapters, thermometers, stainless steel burner tube sets, catch pans and holders, caster wheels, high heat gaskets, charcoal rails, aluminum grill liners, lid handles, burner replacements, gas grill covers, and chimney starters.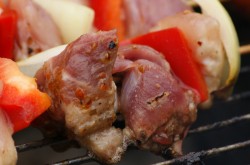 Various Types of Grill Replacement Parts
Grill Parts (by part)

BBQ Igniters
Gas Burner
Heat Shields
Propane Regulator
Grill Replacement Parts

in these categories include:

Universal BBQ igniters, electric BBQ igniters, igniter kits, replacement gas burners, steel heat plates, cast iron burners, stainless steel burners, porcelain heat shields, propane regulator hose replacements, propane level indicator and safety gauges, and propane hose and regulator kits.

Importance of Grill Parts

Everybody dreads having the grill break down on the day of the cookout. It can be really embarrassing when you end up having to order pizza as a substitute. With a little bit of foresight, you can take steps to make sure that kind of scenario does not happen.

When you notice that parts of your grill are becoming worn be sure to address the situation immediately. Ignoring the problem serves only to postpone impending disaster.

Also, it would probably be a good idea to keep a robust supply of commonly needed spare grill parts. Especially if you grill often, you should become familiar with which parts tend to wear out the quickest. Including extras of those pieces in your replacement parts stash is a smart move.

Go back to iGrillBBQ.com Home Page from Grill Replacement Parts