Along with warmer temperatures and baseball games, spring brings the reemergence of the grill to our patios. Outdoor grilling is an American pastime that most of the country has participated in, but in order to enjoy your grill to its greatest potential, you'll have to perform some routine maintenance.
Grill Brush Basics
The mouth-watering images of sizzling bratwurst and juicy burgers entice us to our grills as soon as the weather allows. Before you throw that first burger on the bbq and declare yourself grillmaster, you may want to inspect your
grill and do a little maintenance beyond using a grill brush on the racks. Performing  a heavy duty grill cleaning once a year will add life to your grill and flavor to your food. Performing a lighter but thorough cleaning after each use will also keep your family safe from food-borne illnesses. Simply turning the knob to high for twenty minutes will not break down and sanitize the food residue left after previous uses.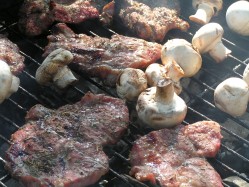 Grill Brush Use on Gas Grills
If you use a gas grill, you should clean the burners regularly. Grease created during cooking drips on to the burners and creates a build-up, resulting in wear and rust. Cleaning the burners with a grill brush will lengthen the life of your grill.  While cleaning the burners, make sure you inspect and unclog the burner ports. You should look for cracks and foreign debris. Cleaning the burner ports will keep your food cooking evenly, and improve the life of your grill for many seasons to come. This little tip will save you money and keep your food quality top notch.
Cleaning Charcoal Grills
If you prefer the smoky flavor of charcoal, here are some tips to keep your grill going all summer long. Consider how long those ashes have been sitting at the bottom of the pan. Have they sat there all winter long, collecting moisture and rusting a hole through the bottom of your grill? Removing ashes as soon as they've cooled and using a grill brush on the rack will keep your grill looking and cooking great.
When not in use, your grill needs a grill cover to shield it against harsh weather elements. If you live on the coast, salt will corrode and rust away the grill. If you live in the north, snow and ice will be your problem. Harsh sun may damage any wood or plastic attached to the exterior of your grill. A grill cover can reduce these dangers and protect your grill.
Whether you grill with propane or charcoal, a good wire grill brush with stiff bristles is the best defense against wear and tear. Keeping your grill clean and rust-free will give it the longest life possible.
Go back to BBQ Accessories Main Page
Go to iGrillBBQ.com Home Page from Grill Brush