Posts Tagged 'grill chicken wings'
Summer is here and you need to learn about grilling chicken wings for your upcoming barbecue. Are you confident you can get grilled chicken wings right the first time?
Better not leave anything to chance. Learn fast with these quick and easy tips for grilled chicken wings the right way.
How to Grill Chicken Wings: Preparation Tips
[br]You can purchase whole chicken wings or wings already cut. Most people who have experience with grilled chicken wings prefer the variety that has already been cut. Cutting them yourself can be time consuming, even though the whole ones tend to be cheaper. If you decide you do want to cut them yourself you should hold the wing at the base and cut between the bones with a sharp knife.
With regard to seasonings and marinades, try branching out a little bit beyond the traditional BBQ sauces. You can use all kinds of products for a marinade like honey, brown sugar, and even lemon juice.[br][br]
How to Grill Chicken Wings: Cooking Tips
[br]One of the biggest difficulties with grilling chicken wings is dealing with flare ups and scorching. Flare ups are caused by melted fat from the meat dripping onto the coals of your fire. You can help to avoid this by removing as much excess fat and skin from the wings as possible prior to placing them on the grill.
If the grill starts flaring up while the meat is cooking, you can grab the wings with tongs and try to shake the fat off into the fire or onto the ground. You could even remove the wings from the grill entirely until the flare up dissipates. Bottom line: do whatever it takes to keep flare ups from scorching your wings and ruining the presentation of your meal.
Plan to rotate the wings every 3 to 5 minutes. When you think they are done cut one open and make sure that none of the meat inside is pink. Remember, poultry needs to be cooked all the way through before consumption.
How to Grill Chicken Wings

: Serving Tips

[br]Just before serving, douse the wings with several generous swaths of barbecue sauce. You can even leave them on the grill for a couple of minutes afterward so that the meat has a chance to absorb some of the sauce. If you do choose to leave them on the grill just be sure and close all the vents to tone down the heat.

Following these simple suggestions for grilling chicken wings will enhance your skills and help take your grilling experience to the next level.

Go back to BBQ Tips Main Page
Go to iGrillBBQ.com Home Page from How to Grill Chicken Wings
Need BBQ tips? It seems like every cookout is the same old burgers and dogs. Check out these great tips BBQ Tips.
The BBQ menu can include so much more than the usual lame burgers and dogs. Would you like to fire up your gathering with some mouthwatering morsels? The grilling tips below will surely spark up your taste buds.
We live in a society that encourages us to "think outside the box." So go ahead and check out some of these grilling tips to make your next grilling experience all the rage.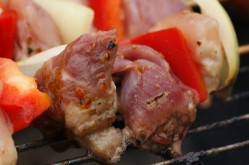 BBQ Tips: Simple methods
How to Grill Asparagus. Grilling asparagus not only enhances the flavor but also preserves its nutritional value. Learn this bbq tip now.
How to Grill Baby Back Ribs. Whether you are using charcoal or gas, the key to mouthwatering ribs is to keep water between the flames and the meat.
How to Grill Brisket. The secret to good brisket is a good cut of meat, and cooking the meat slowly is key.
How to Grill Chicken. Chicken is tricky, but slow and easy wins the day.
How to Grill Chicken Wings. Chicken wings are a party favorite. Cooking slowly on both sides and applying sauces after they are done will ensure flavorful and moist wings. This isn't the only bbq tip we've got!
How to Grill Corn on the Cob. Butter, season, and wrap in foil for great corn on the cob.
How to Grill Fish. The secret to great grilled fish is to seal in the juices by searing.
How to Grill Hamburgers. Cooking over a medium heat will allow the meat to cook through without burning.
How to Grill Hot Dogs. Hot dogs are the easiest and fastest thing to grill; the key is to turn them several times.
Learn more bbq tips here…
How to Grill Lamb. Though more expensive, lamb chops are easy to cook on the grill.
How to Grill Lobster. Impress your friends and family with grilled lobster—yes, the whole lobster; it's not as hard as it seems.
How to Grill Oysters. The best way to grill oysters is to make sure they are alive to start and then keep them on their curved halves to keep the juices in.
How to Grill Pork Chops. The key to great chops is a 6-hour marinade before cooking.
How to Grill Potatoes. Potatoes are the most versatile and the most forgiving for grilling.
How to Grill Ribs. To avoid drying, cook ribs at a medium temperature over indirect heat.
How to Grill Sausages. Grill up perfect sausages on a low flame for a longer period of time.
How to Grill Shrimp. Shrimp kabobs make any occasion festive; just don't burn up the skewers.
How to Grill Steak. For out of this world steaks, grill them from room temperature and don't handle them too much.
How to Grill Turkey. Though a little more complicated, a grilled turkey will make your festive occasions even more festive.
BBQ Tips Conclusion
Whether it's shrimp or steak, potatoes or oysters, click above to check out our great
BBQ Tips

 and grilling tips and impress your guests!

Read more for great tips!

Go to back iGrillBBQ.com Home Page from BBQ Tips