Posts Tagged 'genesis gas grills'
Weber makes barbeque grills of all types and price ranges, and these Weber grill reviews will help you narrow down the choices for purchasing the grill that is perfect for your backyard cookout.
Weber BBQ Reviews: Gas Grills
[br]Spirit Gas Grills –  There are five models in this line and they range in price from $400 to $699. Weber makes three standard grills in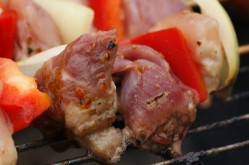 this series and two stainless premium editions. These grills have stainless steel cooking grates, and come in either two-burner or three-burner models. These grills are basic but do about everything the normal backyard chef needs.
Genesis Gas Grills – This series features eight models ranging price from $850 to $1,100. These are basic stainless steel models, but some come with an enamel body available in alternate colors. They also can have up to 3 burners, and have the ability to sear in the flavor of the grill meat.
Summit Gas Grills – There are eight free standing grills in this series, as well as two insert grills. These models come in either a 4-burner or 6- burner version and range in price from $1,599 to $2,599.
Weber BBQ Reviews: Charcoal Grills
[br]Weber One Touch Silver – This grill set the Weber company in motion. This signature Weber round grill keeps heat centered, and you control the heat through the multiple vents. This charcoal grill can even do some basic meat smoking. This model also offers optional rotisserie kit and ranges in price from $90 to $110.
Weber Performer – This is charcoal grilling at its easiest with the use of a 5 gallon propane tank and burner unit to light the charcoal for you. While maintaining the classic round Weber design, this grill comes in a cart style setup , much like a gas grill and ranges in price from $329 to $388.
Weber One-Touch Platinum – This is definetely a more stylish version of the popular round kettle-style charcoal grill. The cart is more stable and the wheels make it easy to move around. This model also features a roll top lid and two side tables. The Platinum runs for around $300.
Weber BBQ Reviews

: Is the Weber right for me?

[br]The Weber full size gas grills are designed to last, and come fully equipped to deliver on quality and durability. Weber's charcoal grills range in size and capability, making it easy for the novice griller, or more complex for the backyard professional chef. Rugged and easy to use, the Weber grills make any family gathering, company party, or church picnic a huge success!

Go back to Grill Reviews Main Page
Go to iGrillBBQ.com Home Page from Weber BBQ Reviews
This is an updated gas grill reviews 2011 to help you and your family pick out the good, the bad, and the ugly in gas grills.
This article will cover reviews of current models and brands to assist you make the proper decision to obtain the very best gas grill for your BBQ budget!
Gas Grill Reviews 2011: Weber
Weber Spirit Gas Grills- The present line of these grills consists of five models that range in price from $500 to $700. In the finish of the season you are able to discover them on sale for in between $400 to $600 depending on the make and model. These grills have either a 2 or 3 burner configuration, and also the premium grills feature stainless steel cooking rods and body parts.
Weber Genesis Gas Grills- This line includes 8 models that range from $850-$1,110. These grills come in either fundamental stainless steel or the premium models come in 5 colors. The premium models feature a standard side burner under a flush mounted cover.
Weber Summit Gas Grills- This item line has 8 totally free standing models as well as two insert grills, and function a 4 to 6 burner configuration. They range in cost from $1,600 to $2,600. The 6 burner model comes having a very big grilling area to cover all your grilling needs.
Gas grill reviews 2011: Broilmaster
[myebay]Gas Grill[/myebay]
The Broilmaster line of grills are fantastic for the serious griller. They feature a high degree of control and an adjustable multi-level cooking grate with stainless steel construction. These grills range in price from $800 to $2,000.
Broilmaster Premium Series Gas Grills- Made with high quality construction these grills are effective yet really carry out when it comes to top notch grilling. They come in either propane or natural gas. The stainless steel bowtie burners put out 20,000 BTUs and cover 695 total inches of cooking. $800
Broilmaster Super Premium Gas Grills- These grills are built to last decades like the older grills had been, but are much more stylish and loaded with unique functions. This grill is built like a tank. This grill functions a distinctive shutter system that lets you toggle back and forth in between direct and indirect grilling. The grates can be adjusted to 3 positions for optimum temperature control. $2,100
Gas grill reviews 2011: Charbroil
Charbroil functions everything from little bistro-style patio grills to commercial series grills. Many of their grills feature an infrared method that allows the burners to heat up quicker. These grills range in cost from $200-$700.
Charbroil Patio Bistro Infrared Gas Grill- is little and easy to store, yet provides you enough space to cook for 4. With 13,000 BTUs, this grills infrared technologies will give you a lot of heat from just a little fuel. $190
Charbroil Commercial Series Quantum Urban Grill- uses a thin perforated stainless steel sheet to convert this grill from standard gas to infrared technologies. Little but mighty, this grill can put out a whopping 700 degrees. $370
Go back to Grill Reviews Main Page
Go to I Grill BBQ.com Home Page from Gas Grill Reviews 2011