Everyone knows there is more to grilling than just tossing a piece of meat over the flame. Proper grilling techiques must be employed to ensure that your food comes out perfect every time.
Grilling Techniques overview
Grill masters use many different techniques in their pursuit of culinary perfection. Some techniques are simple and ought to be observed every time you use the grill. Some techniques are more advanced and take some practice to get the hang of. Remember that achieving perfection takes time. Keep working at perfecting these skills, remember that every grill is different so you can be sure that there will be some tweaking to do. Take a look at the more detailed posts about each technique to learn more.
Basic Grilling techniques
Perhaps one of the most basic grilling techniques to master is direct heat and indirect heat grilling. Simply put, direct heat means that your food is directly above and exposed to the flame of the grill. Indirect heat means that the food is not being exposed to the open flames. Both grilling methods have their advantages and disadvantages. On a gas grill, place your food above an active burner for direct heat. For indirect heat, turn off the burner directly below your food but leave the others on. For indirect grilling on a charcoal grill, pile all of the burning charcoal to one side of the grill and place your meat on the opposite side of the grate.
Direct heat grilling is typically used with the next technique of discussion: searing. Searing meat creates the appetizing grill marks and irregular coloring that we think of with grilled food. Because of the direct exposure to the flame, the surface of the meat changes on a molecular level, enhancing the flavor.
Indirect heat grilling is typically used with more delicate meats, such as seafood; or with longer cooking meats, such as pork shoulder. Another use for indirect heat is with smoking food. Smoke chips impart a massive amount of flavor to any food. Indirect heat is ideal with smoking because it allows the smoke to work into the meat without searing the outside so more smoke cannot get in.
Advanced grilling techniques
Braising is not something reserved for the indoor oven, it can also be accomplished on the grill. Typically braising refers to cooking meat in liquid in the oven. When used in the grill, it is important to monitor your temperature during the braise. Indirect heat should be used to keep the bottom of the meat from burning due to direct exposure to the flame.
Baking is also a technique that can be used on the grill. Most often we think of baking pizza on the grill, but you can also make a number of rustic loaves and even pan breads with the grill. When baking on the grill, once again, the heat ought to be monitored closely. Many factors are at play when baking, check out the baking post for a detailed discussion of these grilling techniques.
Go back to Grilling Tips Main Page
Go to iGrillBBQ.com Home Page from Grilling Techniques
Traeger manufactures a pellet-fueled grill that eliminates the need for charcoal or gas. It's versatile enough to cook the most delicate meat, and can be used to smoke, barbecue, grill, braise, bake, or roast.
Traeger Grills: Why All the Hype?
While most grills use charcoal or gas to cook meats, a Traeger grill is different.  Traegers use mesquite, apple, cherry, hickory, maple, and other hardwoods to flavor pork chops, ribs, salmon steaks, or turkey.  Unlike charcoal or gas, each different type of wood pellet imparts its own unique flavor to the meat.
Charcoal and gas grills cannot compete with the flavor added by the variety of wood pellets used in a Traeger grill. The versatility of the fuel allows the chef to mix pellet types to create unique flavor profiles. For instance, maple pellets and cherry pellets could be combined and used for grilling pork chops. It's this potential for creativity and versatility that sets the Traeger grill apart from other types of grills.
Traeger Grills Enhance Any Cut of Meat
The better the cut of meat, the better the flavor. That's true for any grill, but with a Traeger, you can fudge a little bit. The use of a Traeger grill allows you to purchase less expensive cuts of meat because of the great flavor that comes from the fuel.  The unique flavor possibilities offered by natural cooking fuel allows the back yard chef to take his cooking skills to the next level. A gas or charcoal grill can't come close to achieving the complex flavor profile offered by wood pellets. 
Outstanding Quality
Traeger grills use electricity for start-up and operation. The construction of the grill keeps temperatures constant all around the meat, meaning that you don't need a rotisserie and may not even need to turn the meat. Use the Traeger as a smoker, convection oven, or grill to cook any type of meat.
Unlike other grill makers, Traeger manufactures their own wood pellets.  The pellets are made of  100% quality virgin wood.  Recycled wood used in other types of pellets may contain formaldehyde, a chemical used to preserve building materials.  This chemical and others used in manufacturing can become infused into your meat during the cooking process. You will never find chemicals in the wood pellets sold specifically for a Traeger Grill.
Some grilling pellet manufacturers pay no attention to the safety or quantity of additives in their products. In addition, government regulations are often influenced by the pellet manufacturing giants.  That's not the case with Traeger pellets. Strong consideration is given to customer safety in choosing high quality wood for the pellets used in Traeger grills.  All suppliers are held to strict quality control standards, giving you peace of mind that your cooking fuel is both safe and effective.     

Do you want to know what actual chefs have to say about the Traeger grill? Check out our Traeger grills reviews page!
Go back to the Grill Reviews main page.
Go back to the homepage: iGrill BBQ from Traeger Grills
Along with warmer temperatures and baseball games, spring brings the reemergence of the grill to our patios. Outdoor grilling is an American pastime that most of the country has participated in, but in order to enjoy your grill to its greatest potential, you'll have to perform some routine maintenance.
Grill Brush Basics
The mouth-watering images of sizzling bratwurst and juicy burgers entice us to our grills as soon as the weather allows. Before you throw that first burger on the bbq and declare yourself grillmaster, you may want to inspect your
grill and do a little maintenance beyond using a grill brush on the racks. Performing  a heavy duty grill cleaning once a year will add life to your grill and flavor to your food. Performing a lighter but thorough cleaning after each use will also keep your family safe from food-borne illnesses. Simply turning the knob to high for twenty minutes will not break down and sanitize the food residue left after previous uses.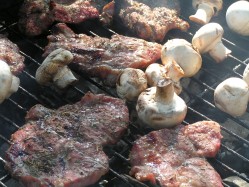 Grill Brush Use on Gas Grills
If you use a gas grill, you should clean the burners regularly. Grease created during cooking drips on to the burners and creates a build-up, resulting in wear and rust. Cleaning the burners with a grill brush will lengthen the life of your grill.  While cleaning the burners, make sure you inspect and unclog the burner ports. You should look for cracks and foreign debris. Cleaning the burner ports will keep your food cooking evenly, and improve the life of your grill for many seasons to come. This little tip will save you money and keep your food quality top notch.
Cleaning Charcoal Grills
If you prefer the smoky flavor of charcoal, here are some tips to keep your grill going all summer long. Consider how long those ashes have been sitting at the bottom of the pan. Have they sat there all winter long, collecting moisture and rusting a hole through the bottom of your grill? Removing ashes as soon as they've cooled and using a grill brush on the rack will keep your grill looking and cooking great.
When not in use, your grill needs a grill cover to shield it against harsh weather elements. If you live on the coast, salt will corrode and rust away the grill. If you live in the north, snow and ice will be your problem. Harsh sun may damage any wood or plastic attached to the exterior of your grill. A grill cover can reduce these dangers and protect your grill.
Whether you grill with propane or charcoal, a good wire grill brush with stiff bristles is the best defense against wear and tear. Keeping your grill clean and rust-free will give it the longest life possible.
Go back to BBQ Accessories Main Page
Go to iGrillBBQ.com Home Page from Grill Brush
There is never a good time to pack away the "barbie!" Many people bbq all the way into the Fall — and the master bbq chef will blow the snow off the leading of the grill and even cook up some juicy steaks in sub zero temperatures! Trust me, I personally know one who does! ;O)
Owning the correct grill is crucial for whatever type of grilling you do, and this article will cover some well known Bbq Grill Reviews.
Bbq Grill Reviews: Before You Buy
[br]Before making the trip to your neighborhood hardware or constructing store to buy a brand new grill, consider a few things…
Buying at the end of the season is the best time to get a high quality grill at a bargain price! Charcoal and gas grills are still by far the most most popular, though lots of guys are opting for smokers also. You might want to invest in a good cover for your grill for the 'off-season,' or even move it into the garage. But if you're not quite ready to put it away, read on for some end-of-the-season bbq grill reviews.
Bbq Grill Reviews: Most Preferred Brands
[br]By far not an exhaustive list, the following are some popular barbeque grills.
Bbq Grill Reviews
For the sake of space we'll just cover several grills:
American Outdoor Gas Grill I have had various grills, from charcoal, BBQs galore to a high end Weber. This is the most effective. Heat is even, you'll find no flare ups even with rib eye steaks, the spit is simple to load and in fact works terrific. Costly but you won't be disappointed.
Napoleon Mirage Gas Grill I love this grill! It is actually solidly built, has big cooking space, room under grill for storage, and plenty of room on either side of grill for placing dishes whilst cooking. The rotisserie came with a good grill light and I readily fit two chickens on it.
Weber Performer This is not a petite grill. The whole setup is solid and well thought out. The 1 touch lighting program works like a breeze. I love this product as much as I can love an inanimate product. And that's a lot.
Go back to Grill Reviews Main Page
Go to iGrillBBQ.com Main Page from Bbq Grill Reviews
I wrote these char broil gas grill reviews for you to select the best Char broil grill that's right for you and your family.
These grills come in dozens of makes and models, and are some of the most popular gas grills available on the market today.
Even though Char broil makes numerous infrared grills, this article will mostly cover gas grills.
Char broil gas grill reviews: 2- burner models
[amazon_search design="2″ width="300″ market_place="US" color_theme="Default" default_search_term="Char Broil Gas Grill" search_index="HomeGarden" columns="1″ rows="3″ outer_background_color="#000000″ inner_background_color="" background_color="" border_color="" header_text_color="#FFFFFF" linked_text_color="" body_text_color="" shuffle_products="True" show_image="True" show_price="True" show_rating="True" rounded_corners="False"/]
Char-broil Quick Assembly 2-Burner Model #463742111
This grill is one of their bottom line models of gas grills and can only be bought at Lowe's. This really is a dual zone 2 burner grill with a regular side burner. Heat output is rather low, with longer preheat times. But this grill is less expensive to purchase, and if you are looking for a fundamental grill, this really is it. $140
Char-broil 2-Burner Gas Grill Model #463621811
This is probably the cheapest of all gas grills on the market, and is accessible only at The Home Depot. This extremely fundamental grill has 2 burners along with a fairly flimsy cooking grate. The body is a light weight shell, and everything else is created of plastic. There is probably only a year or two of life in this model. $70
Char broil gas grill reviews: 3-burner models
[myebay]Char Broil Gas Grill[/myebay]
Char-broil 3-burner Gas Grill Model #463724711
This 3-burner model is available at K-Mart and is on the low end of gas grills. This grill has basic features with 360 square inches of grilling space and 3 10,000 BTU low grade burners. The shell is made with a thin layer of porcelain and is painted black. $120
Char-broil Quantum 3-Burner Model #46325711
This grill is an affordable and descent grill. Built with infrared in mind, it comes having a thin sheet of perforated stainless steel to have the ability to convert from gas to infrared and back again. Though it only has 500 square inches of grilling space and 30,000 BTUs, this baby can reach temperatures of as much as 700 degrees. $320
Char broil gas grill reviews: 4-burner models
Char-broil Commercial Series 4-Burner Model #463244011
This is the basic of their 4-burner models, and is available only at Lowe's. The heat output is great for this grill and it does cook well. You get 680 inches of total cooking area and this grill puts out 50,000 BTUs. You can expect two to three years of life from this grill. $300
Kenmore 4-Burner Blue Gas Grill Model #464220511
This grill offers 4 primary burners plus a low powered side burner, and offers some great grilling at an affordable cost. You have a lot of heat versatility and 500 inches of grilling space. The grates are porcelain coated cast iron for durabilility. $250
Go back to Grill Reviews Main Page
Go to I Grill BBQ.com Home Page from Char Broil Gas Grill Reviews
Based on my Coleman grill reviews, Coleman's portable grills are an outstanding choice for those that like camping, tailgating or grilling in the park.
Coleman is really a time-tested and trusted brand that provides a full line of camping gear and accessories, such as grills which are simple to transport and set up just about anyplace.
Coleman Gas Grill Reviews: Pros/Cons
[amazon_search design="2″ width="300″ market_place="US" color_theme="Default" default_search_term="Coleman Gas Grills Reviews" search_index="HomeGarden" columns="1″ rows="3″ outer_background_color="#000000″ inner_background_color="" background_color="" border_color="" header_text_color="#FFFFFF" linked_text_color="" body_text_color="" shuffle_products="True" show_image="True" show_price="True" show_rating="True" rounded_corners="False"/]
Pros
Coleman's portable grills function well, are easy to set up, transport, and are an excellent value. A number of different styles are accessible, as well as a line of grilling accessories. Styles include models which are lower towards the ground or on legs for the ideal grilling height. Some models are equipped with burners, while others come with traditional grilling grates. You can even choose between various colors, like black, red, gray or dark blue.
Cons
When compared with other heavier, much more stationary grill models, portable grills this are much less likely to hold up as lengthy or offer the long-term consistent performance you might get from other grill types. [myebay]Coleman Gas Grill[/myebay]
Coleman Gas Grill Reviews: Analysis
Overall, the well-liked censuses amongst reviewers and customers appears to be that Coleman is a brand you can trust. Though they do not manufacture weightier much more substantial barbecue grill models like some other companies, the grills they do offer have received consistent three to five begin ratings. Their grills are very easy to put together, and numerous find them the perfect item to take along camping or to tailgating events. Consumers particularly like the versatility of the Coleman portable grills and most would definitely suggest them to a friend. So if you're looking for a portable grill, than it appears Coleman is really a brand worth your consideration.
You can learn more concerning the differences between the Coleman portable grill models and which one would be the very best one for you by reading additional reviews on-line.
Coleman Gas Grill Reviews

: Exactly where to Buy

Ready to purchase a portable Coleman gas grill?

[amazon_search design="2″ width="300″ market_place="US" color_theme="Default" default_search_term="Coleman Gas Grills Reviews" search_index="HomeGarden" columns="1″ rows="3″ outer_background_color="#000000″ inner_background_color="" background_color="" border_color="" header_text_color="#FFFFFF" linked_text_color="" body_text_color="" shuffle_products="True" show_image="True" show_price="True" show_rating="True" rounded_corners="False"/]

Go back to Grill Reviews Primary Page

Go to I Grill BBQ.com Home Page from Coleman Gas Grill Critiques
Grill reviews can provide you with the inside scoop on why they're such a hot item. And with regards to grilling, you would like a grill that is hot, right?
So what makes barbecue gas grills rank amongst the hottest – as in, the ones which will throw the most heat and give you the best performance?
Gas Grill Reviews: Pros/Cons
[amazon_search design="2″ width="300″ market_place="US" color_theme="Default" default_search_term="Gas grill reviews" search_index="HomeGarden" columns="1″ rows="3″ outer_background_color="#000000″ inner_background_color="" background_color="" border_color="" header_text_color="#FFFFFF" linked_text_color="" body_text_color="" shuffle_products="True" show_image="True" show_price="True" show_rating="True" rounded_corners="False"/]
Pros
As numerous grill reviews indicate, they provide the kind of temperature control that puts you in charge, as well as the possible for faster cooking and moister meat. Gas grills also tend to be much more environmentally secure than charcoal kind models, and numerous come with a long list of really cool features.
Cons
Maybe ones of the most persistant cons to a bar-b-q gas grill is the restricted flavoring. A lot of people like a more "smoked" flavoring that other types of grills may offer. Also, because gas fuel can get hot very quickly, cooking much more delicate pieces of meat or food can get a little tricky.
[myebay]Gas Grill[/myebay]
Gas Grill Reviews: Analysis
There are a lot of gas grills in the marketplace nowadays, numerous of which are receiving consistent four to 5 star ratings. Numerous people appear to perfer gas grills simply because of their consistent performance, unique style features, and their ability to throw a truly hot flame. As you wade via the sea of grill reviews available you'll discover common themes and factors why barbeque gas grills are so well-liked, all of which point to a few of the things that have already been highlighted here.
Gas Grill Reviews

: Exactly where to Buy

If you are seeking to purchase a gas grill, there are certainly no shortage of choices accessible to you. Numerous of the preferred locations to purchase from include popular sites like Amazon.com and HomeDepot. An easy way to select the best one for you would be to shop having a list of features you are searching for in mind. A few of the most trust brands consist of large names like Weber, Ducane, Broilmaster, George Foreman, Charbroil, Coleman, Napoleon, and Master Forge. Regardless of which gas grill you select, chances are about as high as the heat they create, that you're going to love what it can do.

Go back to Grill Reviews MainPage
Go to I Grill BBQ.com Home Page
This is an updated gas grill reviews 2011 to help you and your family pick out the good, the bad, and the ugly in gas grills.
This article will cover reviews of current models and brands to assist you make the proper decision to obtain the very best gas grill for your BBQ budget!
Gas Grill Reviews 2011: Weber
Weber Spirit Gas Grills- The present line of these grills consists of five models that range in price from $500 to $700. In the finish of the season you are able to discover them on sale for in between $400 to $600 depending on the make and model. These grills have either a 2 or 3 burner configuration, and also the premium grills feature stainless steel cooking rods and body parts.
Weber Genesis Gas Grills- This line includes 8 models that range from $850-$1,110. These grills come in either fundamental stainless steel or the premium models come in 5 colors. The premium models feature a standard side burner under a flush mounted cover.
Weber Summit Gas Grills- This item line has 8 totally free standing models as well as two insert grills, and function a 4 to 6 burner configuration. They range in cost from $1,600 to $2,600. The 6 burner model comes having a very big grilling area to cover all your grilling needs.
Gas grill reviews 2011: Broilmaster
[myebay]Gas Grill[/myebay]
The Broilmaster line of grills are fantastic for the serious griller. They feature a high degree of control and an adjustable multi-level cooking grate with stainless steel construction. These grills range in price from $800 to $2,000.
Broilmaster Premium Series Gas Grills- Made with high quality construction these grills are effective yet really carry out when it comes to top notch grilling. They come in either propane or natural gas. The stainless steel bowtie burners put out 20,000 BTUs and cover 695 total inches of cooking. $800
Broilmaster Super Premium Gas Grills- These grills are built to last decades like the older grills had been, but are much more stylish and loaded with unique functions. This grill is built like a tank. This grill functions a distinctive shutter system that lets you toggle back and forth in between direct and indirect grilling. The grates can be adjusted to 3 positions for optimum temperature control. $2,100
Gas grill reviews 2011: Charbroil
Charbroil functions everything from little bistro-style patio grills to commercial series grills. Many of their grills feature an infrared method that allows the burners to heat up quicker. These grills range in cost from $200-$700.
Charbroil Patio Bistro Infrared Gas Grill- is little and easy to store, yet provides you enough space to cook for 4. With 13,000 BTUs, this grills infrared technologies will give you a lot of heat from just a little fuel. $190
Charbroil Commercial Series Quantum Urban Grill- uses a thin perforated stainless steel sheet to convert this grill from standard gas to infrared technologies. Little but mighty, this grill can put out a whopping 700 degrees. $370
Go back to Grill Reviews Main Page
Go to I Grill BBQ.com Home Page from Gas Grill Reviews 2011
Infrared grill technology is a brand new advancement in home barbeque grills, although it has been used for years in restaurants and other commercial settings. Now you can use this method to get the same great taste at home that you pay for when you go out.
If you've been looking for a way to get your grilled meats to cook more evenly and quickly, with less time spent cleaning up afterward, an infrared grill is definitely worth a closer look.
Infrared Grills: Features
Heated by gas or propane, an infrared grill uses ceramic or stainless steel construction to transfer very high temperatures directly to the bbq on the grill rack. This method carries many advantages over the tradition convection system used in traditional grills. A higher temperature means less time cooking, which keeps meat juicy and tender. Direct heat results in an even, thorough doneness that is difficult to achieve with convection cooking. Partly because of its new technology, an infrared grill tends to cost more than a standard charcoal or gas grill, but reviewers agree that the high quality of the resulting meals makes it well worth the extra expense. You may just find that your already-delicious bbq can be made extraordinary with the help of this product.
[myebay]Infrared Grills[/myebay]
Infrared Grills: Pros and Cons
The bottom line for infrared grills is very simple: Evenly cooked, juicy, delicious barbeque that cooks with less attention and preparation than traditional grill designs. The ceramic or stainless steel surfaces inside the grill make cleanup a very simple and quick job, allowing you to spend more time enjoying a picnic instead of cleaning up the grill. The only disadvantage is the slightly higher cost. Purchasing a used grill or keeping an eye out for special offers may get you a better price.
Infrared Grills

: Are They For You?

Up until recently, the patent on the design for

infrared gas grills

restricted it to commercial use. If you've ever wondered how your favorite restaurants get steak, burgers, ribs, and chicken done perfectly in such a short amount of time, the answer is now available in a grill that you can put in your own backyard. Every bar-b-q enthusiast owes it to himself to investigate this brand new technology and see how it can take his talent to the next level.
Lots of people might know the best way to grill ribs on a gas grill, but few can actually pull it off. Want to give it a try?
If you need some direction for doing ribs on a gas grill, look no further. This handful of tips will help guide you down the road of success.
How to Grill Ribs on a Gas Grill: Using Smoke Bombs
One of the biggest challenges facing those who would learn to grill ribs on a gas grill is the difficulty of turning out ribs that have a genuine smoked flavor. Therefore, some gas grill owners opt to use smoke bombs in the bottom of their grills to try and create a smoke concentration during the cooking process.
To make a smoke bomb for your grill take a handful of damp (not wet) wood chips and wrap them up in an aluminum foil ball. Then poke a couple of holes in the thinnest layer of foil to allow the smoke to escape. You may use as many bombs as you wish, but you should probably use at least two.
Preheat the grill and place the smoke bombs as close to the burner as possible. When the bombs start smoking, dial down the heat and prepare begin cooking your ribs.
How to Grill Ribs on a Gas Grill: Using Indirect Heat
[br]Grilling ribs over indirect heat is not usually a good idea, particularly with a gas grill. You need to find a way to position the meat as far away from the burners as possible. If you are also cooking other food on the grill as well this may require some spatial negotiation.
Another factor to take into consideration is the location of the burners on your grill. Their positioning underneath the grate will determine how you need to arrange the ribs so as to avoid direct heat.
How to Grill Ribs on a Gas Grill

: Using Apple Juice

[br]When the ribs are about three quarters of the way done it is a good idea to steam them with apple juice. Do this by first placing a layer or layers of aluminum foil underneath the meat. Then, trickle the juice over the ribs and wrap the foil around them to create as much of an air-tight seal as possible.

Along with the smoke flavor, this extra step will make a big difference in the final product.

Learning to grill ribs on a gas grill can be tough, but congratulations for being willing to give it a try.

Go back to BBQ Tips Main Page
Go to iGrillBBQ.com Home Page from How to Grill Ribs on a Grill