Posts Tagged 'charcoal grill'
Brinkmann offers a wide range of consumer level grills that are readily available at many big-box brick and mortar retailers. With such wide use, there are a number of reviews to take into consideration.
Brinkmann Grill Reviews: Overview
Overall, for a company that offers a wide range of budget level grills, Brinkmann achieves a predictable level of quality and consumer satisfaction. There are a few patterns that emerge when examining many of their most popular models. One of the most common strengths of the grills is their full range of features. Brinkmann does an excellent job of offering the latest features at entry level prices. Unfortunately, in most cases, the entry level price is indicative of an entry level grill. Lack of durability and low build quality are common complaints.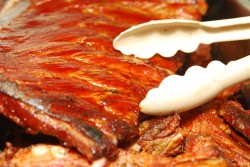 Types of Brinkmann Grills
The major grill types are listed here with their most common pros and cons. They have been separated and broken down here because of the differences in complexity and fuel type.
Charcoal grill reviews: The most common praise for the charcoal grills is their cost effectiveness. The grills are at an ideal price point for the casual outdoor cook. In addition to the low price, Brinkmann makes sure that their charcoal grills have plenty of cooking area. Common remarks by reviewers point out the simplicity of the grill's design, as well as its easy portability and unassuming profile. The overwhelming negative feedback, however, is related to the durability of the grill. Thin metal, flimsy construction, and a finish that easily chips off are the most common complaints.
Gas grill reviews: Brinkmann gas grills have always had a great look in the store. Their modern design and bright colors catch the eye and look very appealing on the patio. One thing that can be said for the grills is that they offer plenty of cooking space. Brinkmann has become very good at maximizing effective grill space. Enhanced features, such as a side burner, secondary grill rack, and optional rotisserie attachments give the grill versatility and allow the outdoor cook to enjoy the latest grill features. However, as with the charcoal grills, Brinkmann gas grills suffer from the same cheap build quality. A common complaint is that the frame will get off center and the doors will not close properly. The grills are also notorious for uneven heating because their burners are made of cheap materials and do not distribute heat very well.
Brinkmann Grill Reviews: Conclusion
At the end of the day, it is undeniable that Brinkmann has gained a place for itself as one of the largest grill manufacturers in the country. While their grills may not be of the highest quality, they are useable and cost effective. For the occasional outdoor cook, a Brinkmann grill will likely suffice for use a few times per season. Over time, it will likely begin to degrade in appearance, but it will still work. For the outdoor chef who envisions using the grill regularly and entertaining at cookouts, most Brinkmann grill reviews agree that the grill is not ideal for such use.
Go back to Grill Reviews Main Page
Go to iGrillBBQ.com Home Page from Brinkmann Grill Reviews
Everyone knows there is more to grilling than just tossing a piece of meat over the flame. Proper grilling techiques must be employed to ensure that your food comes out perfect every time.
Grilling Techniques overview
Grill masters use many different techniques in their pursuit of culinary perfection. Some techniques are simple and ought to be observed every time you use the grill. Some techniques are more advanced and take some practice to get the hang of. Remember that achieving perfection takes time. Keep working at perfecting these skills, remember that every grill is different so you can be sure that there will be some tweaking to do. Take a look at the more detailed posts about each technique to learn more.
Basic Grilling techniques
Perhaps one of the most basic grilling techniques to master is direct heat and indirect heat grilling. Simply put, direct heat means that your food is directly above and exposed to the flame of the grill. Indirect heat means that the food is not being exposed to the open flames. Both grilling methods have their advantages and disadvantages. On a gas grill, place your food above an active burner for direct heat. For indirect heat, turn off the burner directly below your food but leave the others on. For indirect grilling on a charcoal grill, pile all of the burning charcoal to one side of the grill and place your meat on the opposite side of the grate.
Direct heat grilling is typically used with the next technique of discussion: searing. Searing meat creates the appetizing grill marks and irregular coloring that we think of with grilled food. Because of the direct exposure to the flame, the surface of the meat changes on a molecular level, enhancing the flavor.
Indirect heat grilling is typically used with more delicate meats, such as seafood; or with longer cooking meats, such as pork shoulder. Another use for indirect heat is with smoking food. Smoke chips impart a massive amount of flavor to any food. Indirect heat is ideal with smoking because it allows the smoke to work into the meat without searing the outside so more smoke cannot get in.
Advanced grilling techniques
Braising is not something reserved for the indoor oven, it can also be accomplished on the grill. Typically braising refers to cooking meat in liquid in the oven. When used in the grill, it is important to monitor your temperature during the braise. Indirect heat should be used to keep the bottom of the meat from burning due to direct exposure to the flame.
Baking is also a technique that can be used on the grill. Most often we think of baking pizza on the grill, but you can also make a number of rustic loaves and even pan breads with the grill. When baking on the grill, once again, the heat ought to be monitored closely. Many factors are at play when baking, check out the baking post for a detailed discussion of these grilling techniques.
Go back to Grilling Tips Main Page
Go to iGrillBBQ.com Home Page from Grilling Techniques
Big Green Egg charcoal grills, often known as BGEs, combine the best aspects of a charcoal grill and a smoker. Find out why it's the best!
It's unique shape uses modern ceramic and ancient design to provide optimal airflow for temperature regulation and moisture retention. Anyone who has ever used a BGE will testify to it's unique quality and one of a kind taste.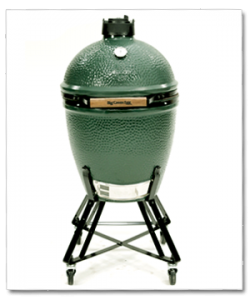 Big Green Egg charcoal grills: Space age materials for backyard cooking
BGE uses a high temperature ceramic clay formula that is derived from the same material that insulates the nose of the space shuttle during re-entry. Because of this high quality ceramic construction, the grill can withstand even the most extreme heat without cracking or suffering structural compromise.
The thick ceramic walls retain heat, conserve fuel, and provide excellent temperature stability for long periods of time. High heat can be achieved because of the insulation, making high temperature searing and flash-fire grilling possible.
Conversely, the thick insulation also allows the fire to burn slowly at low temperatures, making the BGE ideal low temperature smoking.
Big Green Egg charcoal grills

: Good for you, and the environment

BGE recommends using only solid lump charcoal. Many argue that lump charcoal has significant advantages over the more common charcoal briquettes. Briquettes are manufactured as a processed fuel product. They are well suited for grilling because of their regular shape and consistent burn quality.

However, because of the manufacturing process, briquettes often include a number of additives and enhancers. Lump charcoal, on the other hand, uses unprocessed wood and forgoes the use of additives. This allows the charcoal to burn clean and hot, making it the ideal fuel for the BGE.

Lump charcoal is known to burn hotter and more consistently even than charcoal briquettes. The charcoal lights easily in a chimney starter and does not require lighter fluid or pellets. Once the charcoal is burning brightly, it will provide even heat to the BGE whether the chef needs high and fiery temperatures or a low and slow burn.
Big Green Egg Charcoal Grills: Things you can cook
Everyone cooks meat on the grill. Barbecue chicken, buffalo wings, steak, hamburgers, etc. are all commonly grilled items. Often they can be cooked quite well on the average charcoal or gas grill. The natural charcoal used by the BGE imparts a unique smoky flavor to any food, including the typical meats.
What sets the BGE apart however, is it's ability to smoke meat. With a BGE you can achieve great results with fall-off-the-bone ribs and succulent pulled pork barbecue. Vegetables take on an incredible, but subtle, smoky flavor from the charcoal.
The high heat capability combined with a good pizza stone lets a Big Green Egg charcoal grills owner experiment with traditional pizza styles and achieve authentic Neapolitan style pizza at home.
Go back to the Grills by Brand main page.
Go back to the homepage: iGrill BBQ from Big Green Egg Reviews
The BBQ igniter is a simple tool with many applications. Of course, it is made for the primary purpose of lighting gas grills. Unfortunately, however, BBQ igniters sometimes get a bad reputation for being undependable.
BBQ Igniters: The Little Tools that Accomplish Great Things
It seems like every time you want to light the grill, the igniter fails to work properly. This requires you to go in the house and dig around for a match or lighter to get your grill going. A little known fact is that the igniter is rarely the cause of such undependability. More often, the burners are not properly feeding fuel to the igniter, which makes it difficult to light.
How a BBQ Igniter Works
BBQ igniters use piezo electricity to create a spark that lights the gas in a grill. When we think of electricity, we think of plugging something into a wall, or inserting fresh batteries to power a device.
Piezo electricity is different from what we normally think of as electricity. If you speak Greek, you will recognize the word "piezo" as meaning pressure. Piezo electricity is essentially an electromagnetic charge generated by applying pressure to something. There are certain crystal elements that produce electricity when they are struck with force. In a BBQ igniter, one of these piezo electric crystals is struck, which causes it to emit a spark to light the grill. The spark is small and only lasts for a split second, but it is all that the gas needs to light quickly.
What to Do When Your Grill Won't Light
If your grill won't light after you've turned on the gas and hit the igniter, there are a few steps to diagnose the problem. Remember to turn off the gas and remove the propane tank completely before attempting any diagnosis or repairs.
1. With the gas turned off and the tank removed, locate the igniter element and watch it as you press the igniter button. If you see a small spark jump across the element, you know your ignition issues are not caused by the igniter. If there is no spark, your easiest option may be to get a replacement igniter. BBQ igniters are available at many online retailers.
2. If you see a spark on the igniter, the problem is likely with the gas burners. With the propane tank still safely disconnected, remove the burners one by one and check for signs of blockage. If there is any blockage in the burners, replace them.
Go back to BBQ Accessories Main Page
Go to iGrillBBQ.com Home Page from BBQ Igniters
Weber makes barbeque grills of all types and price ranges, and these Weber grill reviews will help you narrow down the choices for purchasing the grill that is perfect for your backyard cookout.
Weber BBQ Reviews: Gas Grills
[br]Spirit Gas Grills –  There are five models in this line and they range in price from $400 to $699. Weber makes three standard grills in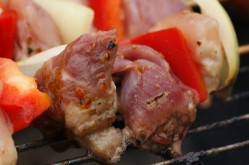 this series and two stainless premium editions. These grills have stainless steel cooking grates, and come in either two-burner or three-burner models. These grills are basic but do about everything the normal backyard chef needs.
Genesis Gas Grills – This series features eight models ranging price from $850 to $1,100. These are basic stainless steel models, but some come with an enamel body available in alternate colors. They also can have up to 3 burners, and have the ability to sear in the flavor of the grill meat.
Summit Gas Grills – There are eight free standing grills in this series, as well as two insert grills. These models come in either a 4-burner or 6- burner version and range in price from $1,599 to $2,599.
Weber BBQ Reviews: Charcoal Grills
[br]Weber One Touch Silver – This grill set the Weber company in motion. This signature Weber round grill keeps heat centered, and you control the heat through the multiple vents. This charcoal grill can even do some basic meat smoking. This model also offers optional rotisserie kit and ranges in price from $90 to $110.
Weber Performer – This is charcoal grilling at its easiest with the use of a 5 gallon propane tank and burner unit to light the charcoal for you. While maintaining the classic round Weber design, this grill comes in a cart style setup , much like a gas grill and ranges in price from $329 to $388.
Weber One-Touch Platinum – This is definetely a more stylish version of the popular round kettle-style charcoal grill. The cart is more stable and the wheels make it easy to move around. This model also features a roll top lid and two side tables. The Platinum runs for around $300.
Weber BBQ Reviews

: Is the Weber right for me?

[br]The Weber full size gas grills are designed to last, and come fully equipped to deliver on quality and durability. Weber's charcoal grills range in size and capability, making it easy for the novice griller, or more complex for the backyard professional chef. Rugged and easy to use, the Weber grills make any family gathering, company party, or church picnic a huge success!

Go back to Grill Reviews Main Page
Go to iGrillBBQ.com Home Page from Weber BBQ Reviews
Summer family fun is the smoky flavor of  juicy hamburgers fresh off the charcoal grills. On vacation or at home, charcoal grilling adds an extra level of fun to any meal!
Nothing beats the flavor of food cooked over a charcoal grill, or the control you have when using charcoal. Forget the microwave and try your hand at real cooking!
Charcoal Grills: Features
[br]All charcoal burning grills have a pan for the fire and an adjustable grid for cooking. The height of the grid above the fire and the amount and arrangement of the charcoal control the temperature. Charcoal is more flexible regarding temperature than other grill
styles since charcoal arranged closely together produces an incredible amount of heat.
Although the basic features of  charcoal burning grills are the same, styles and prices vary. Square grills have a shallow pan, an adjustable grid, and a lid with vents. They are simple and inexpensive, ranging in price from $60 to $100.
Kettle grills are round with a deep lower chamber, an adjustable grid, and vents in both the lower chamber and the lid. Both the depth of the chamber and ventilation system better control and circulate the heat than other styles of grills. Slightly more expensive, the price of kettle grills ranges from $70 to $140.
Cart  grills are the upscale version of these grills: similar in shape to gas grills and having an ash tray that makes clean-up easy. Like other grills, the grid is adjustable and vents help control the heat. These grills are expensive (but very nice), ranging from $2,000 to $2,800.
Charcoal Grills: Pros and Cons
[br]In a day of microwaves and fancy kitchen tools, charcoal grilling has an appealing simplicity and gives you control as the chef. You can use the wide range of temperature to your advantage. And the flavor charcoal adds to food is well worth the extra effort.
However, starting the fire can be difficult, and once the fire starts, controlling the heat may prove challenging. After grilling, cleaning out the grill and disposing of the cooled ash can be a messy job.
Charcoal Grills

: Is it for you?

[br]The simplistic style of charcoal grilling requires extra effort, patience, and some skill from the chef, but also rewards that effort with a feeling of satisfaction when your family and friends bite into those juicy hamburgers fresh off the charcoal grill!

Go back to Types of Grills Main Page
Go to iGrillBBQ.com Home Page from Charcoal Grill
Are you looking for a way to make your grilling experience unique? Try Homemade Grills.
If you are looking for a way to add an individual touch to your backyard barbecue, building your own grill is a fantastic project to consider.
The advantages to building a grill at home are numerous. Besides the money you will save, the knowledge and experience you gain will make you an all-around bbq expert on your very own unique grill.
Homemade Grills: Features
The possibilities are endless when designing your own homemade grills. Do you simply need a small charcoal grill on which to cook a dinner for two once in a while? Does your company need a giant trailer-mounted barbeque for corporate events? Do you have a revolutionary design idea that you think may be the next big thing? Once you've gotten your ideas organized, you can start getting the materials and tools to build your masterpiece.
Whether fired by charcoal, propane, wood, electricity, or a less common heat source, you should take care to make sure that the materials you use are able to withstand the heat that is produced. Unexpected risks like harmful fumes produced by certain materials should also be researched thoroughly. Investigating commercially built grills can help you find which types of designs, shapes, ignition mechanisms, and safety features have proven successful.
Even if your only reason for building your own grill is the cost savings, consider adding a unique feature to your homemade grill that you think will enhance its functioning. Many of the most popular new grills manufactured today began in someone's backyard.
Homemade Grills: Pros and Cons
As we've already seen, building your own grill saves you money, gives you the opportunity to experiment with potentially game-changing ideas, and allows you to make your entire bar-b-q experience completely homegrown. If you are not naturally handy, though, it may be worth your while to enlist some experienced help to avoid having your creation burst into flames or melt the first time you fire it up.
Homemade Grills: Are They For You?
Perhaps you've tried all the grill types (homemade charcoal grills, homemade gas grills,homemade smoker grills) on the market and come up disappointed. Perhaps you are looking for a way to get your great idea out there before the public, or maybe you are just looking for a reward summertime project. In any case, building homemade gas or charcoal grills is a great idea that will exercise your creative mind, impress your friends and family, and give you a sense of deep satisfaction as you eat delicious barbeque straight off your "Insert Name Here" grill!
Are you ready to have a cookout at your small apartment or college dorm room? Travelling and can't live without your grill? Try a portable grill!
If you're pressed for space, you'll definitely be looking at a portable grill that both saves space and enables you to smoke some great barbecue.
Portable style grills come in nearly infinite varieties, each with distinct advantages and disadvantages.
Portable Grills Features
[br]Mobile grills are designed for portability. They are not mounted on a beautiful brick assembly in your back-yard. These grills are
designed for the tailgate party, the campout, or even the dorm room barbeque. They save space, and are an essential for a camping trip or football event. They come in four varieties, each with distinct features:
Portable charcoal grills are a smaller version of the old-school, smoke-billowing grill your Dad used to use. If you don't have neighbors—or a college fire code—to worry about, a portable charcoal grill may be for you.
Portable gas grills use propane to cook your delicious bar-b-q, which gives the grill man control over the cooking temperature. Safe storage of the propane is essential, but mature handling of the tank makes this a highly effective grill.
Portable electric grills are a great alternative if you need to cook indoors. This type of grill not only produces less smoke, but cooks in a healthier manner. There's less grease, and a more locked-in style of flavor.
Finally, Portable infrared grills cook the meat faster—and in many cases, better—than the above portable grill alternatives. However, with all new technologies, the primary downside is price. Portable infrared grills are also more rare and, frankly, much more expensive. But if you're after a premium cookout experience, a portable infrared grill is for you.
Portable Grills Pros and Cons
[br]The portable grill's distinct advantage is that… well, they're portable. You can haul your grill to a campout, cookout, friend's house, or to a new place of residence. This is an advantage that larger, mounted grills, though classier, just don't have.
However, a portable grill has its downsides. Most portable type grills don't have the premium controls of their larger cousins. In addition, they aren't designed to create a feast for huge groups of people.
Portable Grills Is it for you?
[br]There are thousands of varieties of grills out there… but only one for you. If you want to enhance your campout, tailgate party, small apartment, or dorm room, then consider adding a portable grill to your cooking arsenal.
Go back to Types of Grills Main Page
Go to iGrillBBQ.com Home Page from Portable Grills
Looking for authentic South American style grilled meat dishes? Check out the following recipe that will give a Latin flare to your next rack of ribs.
It sounds too good to be true, but this recipe is super quick and easy to make. With only a handful of ingredients and minimal prep and cook time, what's to lose?
South American Grilled Meat Dish Information
Preparation time: 5 minutes
Cook time: 15 minutes
Makes: 6
Servings: 6
South American Grilled Meat Dish

Ingredients

[br]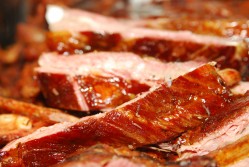 1 Cup of coarse salt, sea salt, or iodized salt (more or less salt may be used)
6 Pounds of beef short ribs
6 Quartered limes
1 Bottle of BBQ sauce (if desired)
South American Grilled Meat Dish Directions
[br]
1. Ignite your grill and bring it to medium or medium-high heat. If you are using a charcoal grill be sure to give the coals plenty of time to die down before proceeding with the cooking process.
2. Clean and lightly oil the cooking grate.
3. Apply a generous amount of salt to the ribs (this will help to bring out the fat in the meat).
4. Place ribs on the grill. Regardless of the type of grill you are using, you need to be sure and cook with indirect heat. Keep the ribs away from the center of a charcoal grill or away from the burners of a gas grill.
5. Allow the ribs to cook for about 5 to 7 minutes before rotating for another 5 to 7 minutes (you may choose to cook them for longer if you prefer them more well done).
6. Remove the ribs and squeeze the lime juice over them until completely covered.
7. Serve immediately
Most people balk at the amount of salt that this recipe calls for. However, users testify that the amount of salt prescribed is not excessive. At any rate, you do not need to use the entire cup if you deem it unnecessary.
It is worth noting is that this dish will be greatly enhanced by a freshly tossed salad and/or freshly picked garden vegetables. Grilled potatoes or corn on the cob would also be another side worth considering.
For those with taste buds honed on more American style cuisine, feel free to lather barbeque sauce on the ribs shortly before pulling them off the grill. Diners from a Latin American background, however, might need to include a few additional spices to liven up the experience.
Go back to Beef on the Grill Main Page
Go back to BBQ Recipes Main Page
Go to iGrillBBQ.com Home Page from South American Grilled Meat Dish
Those who have found standard gas grills rather frustrating to operate have discovered that new holland brand grills hold the solution to their barbeque problems.
Holland's unique drip-pan configuration eliminates flare-ups from dripping juices, guaranteeing consistency and evenness in the delicious meals that come off your grill. Read on to see how this grill can transform your grilling experience.
New Holland Grills: Information
[br]Backyard BBQ enthusiasts have often experienced annoyance and even a ruined meal by having their carefully prepared meats burned by flare-ups due to dripping grease. The Holland System, developed about twenty years ago, takes care of this problem by placing a drip pan between the grill rack and the flame.
Instead of causing destructive flare-ups, the juices from grilling meats sizzle on the drip pan and create smoke that makes your barbecue even better.
Holland advertises that you can simply close the lid and cook by time, eliminating the need to constantly check the grill and adjust the placement of meat.
New Holland Grills: Models
[br]New holland brand grills are available in a variety of models, from the "Companion", a small portable grill ideal for camping or tailgating, to the "Patriot," which incorporates the patented Holland System in a charcoal grill. Other available models feature a stainless steel body, storage cabinets, and a separate infrared searing grill. Although Holland does not sell directly to consumers, their grills can be found at many local retailers. [br][br]
New Holland Grills

: Are They Right For You?
[br]Grilling in the backyard, at a company picnic, or for a social event should be enjoyable. If you are spending an entire picnic standing over a flaming grill trying to keep your meat cooking evenly, you are missing out on the joys of grilling! Holland advertises that you can simply close the grill's lid and cook by time, leaving you more time for enjoying your event.
If you are looking for a grill that makes barbequing a fun, simple, easy, and greatly rewarding experience, you should definitely visit your local retailer to take a look at a new Holland grill.
Go back to Grill Brands Main Page
Go to iGrillBBQ.com Home Page from New Holland Grill