Archive for the 'BBQ Review' Category
The unique advantages of Bubba Keg grills, with their kamado shape coupled with the strength of steel, are well known. If you're not familiar with Bubba Kegs, visit our grill brands page to understand more about them.
For the most part, Bubba Keg lives up to the hype. Their advertising is spot on in nearly every area, which is something that can be said for few manufacturers. However, there are a few design flaws worth noting.
Bubba Keg Grill Reviews: Overview
Bubba Keg grills receive much praise from their users. The steel grill is durable, fuel efficient, and well insulated. Because of its durability, the grill is easily transportable and very weather resistant. There is something to be said for a grill company with such a loyal user base. The overwhelming praise from Bubba Keg owners shows that the company is doing a lot of the right things with their grills.

The grill is shaped like a Japanese kamado cooker, but has been stylized with the appearance of a beer keg. The low brow looks of the grill stop there, however. The grill is designed to maximize efficiency and minimize moisture loss in food. These two things, the Bubba Keg accomplishes easily; all the while imparting great flavor to the food being grilled.
Bubba Keg Grill Reviews: Pros and Cons
Fortunately, the list of pros from Bubba Keg owners is much longer than the list of cons. The following is a compiled list of the most common pros and cons found in Bubba Keg grill reviews around the internet.
Pros
The grill shape allows it to be used for high or low temperatures with a remarkable level of stability
The grill's steel construction makes it durable and is easy to transport
The grill features an insulated layer to minimize heat loss
Because of the easy airflow, the grill is easy to light
The grill is easy to turn off by shutting the air vents.
Cons
The grill top vent is not water proof, which allows rain to get into the grill and can cause mold if the grill is not kept spotlessly clean.
The steel grates and cooking utensils can scratch off the enamel coating on the grill interior, allowing the steel underneath to rust.
Conclusion
Overall, the Bubba Keg is a great grill with many advantages. Its steel construction creates a few drawbacks, but these are minor when compared to the advantages of steel. The grill should be cared for properly to ensure water does not damage the interior and care should be exercised when the grate is being moved around.
Go back to Grill Reviews Main Page
Go back to iGrillBBQ Home Page from Bubba Keg Grill Reviews
Brinkmann offers a wide range of consumer level grills that are readily available at many big-box brick and mortar retailers. With such wide use, there are a number of reviews to take into consideration.
Brinkmann Grill Reviews: Overview
Overall, for a company that offers a wide range of budget level grills, Brinkmann achieves a predictable level of quality and consumer satisfaction. There are a few patterns that emerge when examining many of their most popular models. One of the most common strengths of the grills is their full range of features. Brinkmann does an excellent job of offering the latest features at entry level prices. Unfortunately, in most cases, the entry level price is indicative of an entry level grill. Lack of durability and low build quality are common complaints.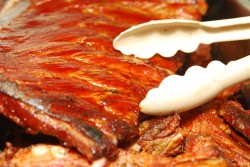 Types of Brinkmann Grills
The major grill types are listed here with their most common pros and cons. They have been separated and broken down here because of the differences in complexity and fuel type.
Charcoal grill reviews: The most common praise for the charcoal grills is their cost effectiveness. The grills are at an ideal price point for the casual outdoor cook. In addition to the low price, Brinkmann makes sure that their charcoal grills have plenty of cooking area. Common remarks by reviewers point out the simplicity of the grill's design, as well as its easy portability and unassuming profile. The overwhelming negative feedback, however, is related to the durability of the grill. Thin metal, flimsy construction, and a finish that easily chips off are the most common complaints.
Gas grill reviews: Brinkmann gas grills have always had a great look in the store. Their modern design and bright colors catch the eye and look very appealing on the patio. One thing that can be said for the grills is that they offer plenty of cooking space. Brinkmann has become very good at maximizing effective grill space. Enhanced features, such as a side burner, secondary grill rack, and optional rotisserie attachments give the grill versatility and allow the outdoor cook to enjoy the latest grill features. However, as with the charcoal grills, Brinkmann gas grills suffer from the same cheap build quality. A common complaint is that the frame will get off center and the doors will not close properly. The grills are also notorious for uneven heating because their burners are made of cheap materials and do not distribute heat very well.
Brinkmann Grill Reviews: Conclusion
At the end of the day, it is undeniable that Brinkmann has gained a place for itself as one of the largest grill manufacturers in the country. While their grills may not be of the highest quality, they are useable and cost effective. For the occasional outdoor cook, a Brinkmann grill will likely suffice for use a few times per season. Over time, it will likely begin to degrade in appearance, but it will still work. For the outdoor chef who envisions using the grill regularly and entertaining at cookouts, most Brinkmann grill reviews agree that the grill is not ideal for such use.
Go back to Grill Reviews Main Page
Go to iGrillBBQ.com Home Page from Brinkmann Grill Reviews
Big Green Egg reviews impart much praise to this popular grill from both professional and amateur grill enthusiasts. What do people say? Find out!
It is easy to be skeptical of positive press. Journalists can be paid for a positive review whether the product warrants praise or not. The real test of a product is with the mass market.
Experts tell us that most people will only voluntarily take the time to post a product review if they have very strong feelings about that product. This is the reason many of the product reviews we see around the web are either 5 star or 1 star. There is little in between.
With this in mind, let's venture into the online community and attempt to make sense of the plethora of opinions.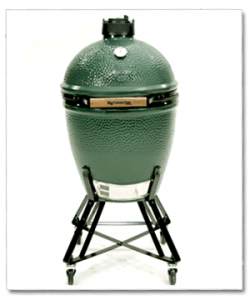 Big Green Egg Reviews: Product Description
The Big Green Egg is a unique shape, designed to maximize fuel efficiency and airflow inside the cooking dome. It is made of heavy ceramic and features a smooth green coating that is impervious to heat and weather.
The Egg sits on a wheeled metal frame and can be upgraded to feature a small prep surface on either side. On the side of the Egg is a stainless steel sliding door to control air entry at the bottom, and at the top is a cast iron lid with a butterfly valve to control airflow out of the Egg.
The entire dome of the Egg is hinged to allow access to the interior and the hinge mechanism locks open so the chef does not have to hold the lid up. The interior of the Egg features a stainless steel cooking grate.
Big Green Egg Reviews: What People Say
Out of 85 product reviews, the overwhelming consensus is that the Big Green Egg is a great grill. 73 out of 85 reviewers rated the BGE with 5 stars, and only one gave a 1 star rating. After reading through the positive comments, several patterns emerge. The major pros of the grill are as follows:
The shape and ceramic construction of the BGE cooks food evenly with minimal moisture loss.
The natural charcoal used in the grill imparts a unique flavor rivaled by few and matched by none.
The BGE can be used with great versatility as a grill, oven, or smoker.
Temperature in the BGE can be precisely controlled within a few degrees by adjusting the air vents.
As a smoker, the BGE can hold a low temperature between 200 and 225 degrees F with almost no fluctuation.
Big Green Egg, Inc. offers a lifetime warranty and will replace parts with no hassle.
The interior of the BGE burns itself clean and requires no maintenance.
The Big Green Egg is not without its shortcomings, however:
The grill is very heavy because of its thick ceramic construction.
The included thermometer wears out easy and is less accurate than many others.
The grill has a hefty price tag.
There is a learning curve when cooking with charcoal.
The Bottom Line
The BGE offers superior taste and versatility as a grill. However, for the casual griller looking for a less expensive and easier grill, a gas grill may be the better option. Still, there is no denying that once you have eaten food from a Big Green Egg, nothing else will ever quite live up to it.
One final note: Buying a Big Green Egg online voids your warranty, so be sure to get it locally!
Go back to the Grill Reviews main page.
Go back to the homepage: iGrill BBQ from Big Green Egg Reviews
Traeger Grills: The Unique Flavors of Pellet Grilling
Is your old grill burnt out after all its summer cooking? As summer comes to a close, try out these special deals on Traeger barbeque grills. With these ultimate grills, you will be able to astound your guests and your family with the sensational flavor of a wood-burning grill. Cooking with wood pellets provides an original outdoor cooking experience with unique flavors. Each different variety of wood pellet imparts its own unique flavor to the meat, allowing you to experiment with new flavor sensations, even while relying on your favorite marinades and seasonings. These grills are simple and easy to use so that anyone can operate them while still creating dishes that taste professional.
Traeger Grills Do More Than Just Barbecue
Grills are great for parties and entertaining, but everyone struggles to find the perfect balance between raw and burnt. With a Traeger barbecue, set the temperature and let the grill do the rest of the work! No one will have to know that the secret lies with the machine. In addition, the wood pellets used in a Traeger grill allow you to experiment with new ways of cooking in order to develop your own signature flavor. One of the best uses of the wood pellets in a Traeger grill is smoking the meat, which imparts the unique flavor of that particular wood variety. In addition to this unique feature, Traeger grills also allow you to bake, roast, braise, and, of course, barbeque! The versatility of the Traeger design makes this grill an excellent choice for the serious outdoor chef, especially for entertaining purposes.
Safe For the Environment
The taste is not the only selling point for these cutting-edge grills. Using wood pellets is also safer for the environment than traditional cooking methods, and Traeger barbeque grills are blazing trails for new options in grilling. The wood pellets are 100% all natural, so you can be sure that no harmful materials are cooking into your food or being released into the atmosphere. Although many pellet manufacturers make their pellets from any available hardwood, Traeger is committed to supplying pure, chemical-free pellets to ensure that they provide the best possible service to customers.
Few cooking methods are as convenient and reliable as wood pellets. Traeger grills are the ideal grilling solution, combining ready-to-light convenience with eco-friendly fuel, and the great taste that only comes from natural fuel.
Reading pellet grill reviews will give you all the information you need to decide if wood pellet grilling is for you and your family. Pellet grills have been around since the 1980s, but they are becoming more popular. These wood burning wonders are not only economical, but they can also add some serious flavor to your bbq!
Sorting through all the pellet grill reviews on Amazon
 can be difficult. That's why we've done it for you here.
How Do Pellet Grills Work?
Pellet grills use small wood pellets made of sawdust that has been compacted into small 1/4-inch oblong pieces. These pellets put out about 8,500 BTUs per pound. Pellet grills come with storage bins, or hoppers, that hold the pellets and release them into an internal firepot where the pellets are burned, thereby creating smoke.
Typical pellet burners work both as grills and smokers. You can buy many varieties of wood pellets to add flavors like applewood, mesquite, hickory, cherry, or oak to whatever you are grilling.  The ease of use coupled with some great flavors make these a favorite among master backyard grillers.
Pellet grills take 10-15 minutes to heat up, which is about same as the average gas grill. Most retailers that carry pellets also sell an optional but very useful temperature control unit. This unit allows you to burn the pellets close to  your ideal temperature, give or take 5 degrees.
Pellet Grill Reviews: Cost
Pellet grills, on the average, range from around $400 for a small and basic unit all the way up to $2,000 for a bigger one with all the features.
Wood pellets sell for around $1 to $2 per pound, though by buying in bulk you can usually get them cheaper. On the high end of things, pellet grills use around 2 pounds of pellets per burning hour, and around 1/2 pound per hour if you are smoking your meat.
The best way to buy pellets is to shop online. Sometimes you can get them for as little as $.50 per pound. Remember, a pellet grill only runs on pellets, so you may want to check into fuel availability ahead of time in addition to reading pellet grill reviews before you make your purchase decision.
Pellet Grill Reviews: The Best Grills
If you're feeling overwhelmed by the variety of options, don't worry. We've selected a couple of the best grills for you:
Memphis Pro Wood Fire Grill-This pellet grill is one of the best pellet grills available on the market. High quality construction combined with versatility let you grill just about anything. This grill can reach temperatures of up to 650 degrees, but can hold down to 180 degrees if you need it to. It will give the best indoor ovens a run for their money and gives you 562 square inches of space for grilling.
Traeger Pellet Lil' Tex-This grill is manufactured by the company that started it all back in the 1980s and works super well as both grill and smoker. The controlling mechanism on this unit works so well that you don't have to babysit this unit too much. This grill provides 418 square inches of grilling space.
Go back to Grill Reviews Main Page
There is never a good time to pack away the "barbie!" Many people bbq all the way into the Fall — and the master bbq chef will blow the snow off the leading of the grill and even cook up some juicy steaks in sub zero temperatures! Trust me, I personally know one who does! ;O)
Owning the correct grill is crucial for whatever type of grilling you do, and this article will cover some well known Bbq Grill Reviews.
Bbq Grill Reviews: Before You Buy
[br]Before making the trip to your neighborhood hardware or constructing store to buy a brand new grill, consider a few things…
Buying at the end of the season is the best time to get a high quality grill at a bargain price! Charcoal and gas grills are still by far the most most popular, though lots of guys are opting for smokers also. You might want to invest in a good cover for your grill for the 'off-season,' or even move it into the garage. But if you're not quite ready to put it away, read on for some end-of-the-season bbq grill reviews.
Bbq Grill Reviews: Most Preferred Brands
[br]By far not an exhaustive list, the following are some popular barbeque grills.
Bbq Grill Reviews
For the sake of space we'll just cover several grills:
American Outdoor Gas Grill I have had various grills, from charcoal, BBQs galore to a high end Weber. This is the most effective. Heat is even, you'll find no flare ups even with rib eye steaks, the spit is simple to load and in fact works terrific. Costly but you won't be disappointed.
Napoleon Mirage Gas Grill I love this grill! It is actually solidly built, has big cooking space, room under grill for storage, and plenty of room on either side of grill for placing dishes whilst cooking. The rotisserie came with a good grill light and I readily fit two chickens on it.
Weber Performer This is not a petite grill. The whole setup is solid and well thought out. The 1 touch lighting program works like a breeze. I love this product as much as I can love an inanimate product. And that's a lot.
Go back to Grill Reviews Main Page
Go to iGrillBBQ.com Main Page from Bbq Grill Reviews

This indoor barbecue grill comes with five removable plates to cook deep-dish pizza, burgers, steaks and extra. But what do the reviews say about this significant unit?
George Foreman 360 Grill Reviews – The Features
[amazon_search design="2″ width="300″ market_place="US" color_theme="Default" default_search_term="George Foreman 360 Grill" search_index="HomeGarden" columns="1″ rows="3″ outer_background_color="#000000″ inner_background_color="" background_color="" border_color="" header_text_color="#FFFFFF" linked_text_color="" body_text_color="" shuffle_products="True" show_image="True" show_price="True" show_rating="True" rounded_corners="False"/]
The George Foreman indoor barbecue grill can be a full circle (360°) grill having a big 106 square inch grilling surface. Five removable plates permit you to make use of the grill as a griddle, press, grill and oven. A sliding temperature control permits each low heat and high heat cooking.
The floating hinge on the cover lets you bar-b-q thick steaks and you could tilt the grill to ensure that fat and juices from cooking drain into a drip tray. Handles on the grill stay cool to the touch and a triple non-stick grill surface lets cooked food slide out readily.
The 1500-watt grill has embedded heating elements which give consistent heat. The unit measures 17-½ x 15 x 5-7/8 inches and comes with a 1 year limited warranty.
[myebay]George Foreman 360 Grill[/myebay]
George Foreman 360 Grill Reviews

– Things Users Liked
Grills, bakes or fries food and does so quickly

Floating cover hinge allows you to cook foods of different thicknesses

Grill plates easy to switch back and forth and are dishwasher safe

Easy to use significant stick-free cooking surface that allows easy fat-free cooking

Can switch the bbq grill to an angled setting allowing liquids from foods to drain into a tray

Temperature control permits low heat cooking
George Foreman 360 Grill Reviews

– Things Users Didn't Like
Large sticker on top of grill was really hard to remove

Takes up a lot of countertop space, the round shape doesn't permit it sitting flush with the wall, and it's too tall to open fully under most cabinets

Easy to accidently insert the grill plates in backwards causing the plate to lock improperly and at times fall out of the grill

Didn't always maintain stick free surface after one year

Several users complained that the unit simply stopped cooking after a few weeks. The company replaced the grill but the whole experience was inconvenient

Doesn't make brown grilling marks on food like earlier Foreman grills did

The power cord is very short

Some did not like the larger price that comes with a larger unit

Some users felt that the unit does not get as hot as earlier Foreman models; others felt that steaks cooked too quickly
George Foreman 360 Grill Reviews – The Final Word
Overall users really liked the grill and felt it is actually a good versatile product for indoor barbeque and cooking. Most users that had problems were very happy with the company's customer service, but did not like the hassle of having to get something replaced or repaired.
Go back to Grill Reviews Main Page
Go to I Grill BBQ.com Home Page from George Foreman 360 Grill Reviews

Because sizzlin' summer days is the perfect time to buy that grill and make it sizzlin' also, these broilmaster grill reviews will help you discover just the right grill for your perfect bbq. Getting the right grill is essential to making your backyard barbecue a neighborhood success!
Broilmaster Grill Reviews: Types
[amazon_search design="2″ width="300″ market_place="US" color_theme="Default" default_search_term="broilmaster grill" search_index="HomeGarden" columns="1″ rows="3″ outer_background_color="#000000″ inner_background_color="" background_color="" border_color="" header_text_color="#FFFFFF" linked_text_color="" body_text_color="" shuffle_products="True" show_image="True" show_price="True" show_rating="True" rounded_corners="False"/]
Broilmaster makes many top high quality gas grills in several types, makes and models. Overall you will find seven types that consist of Super Premium grills, Premium series grill, H-series grill, R Series grill, Built-in grills, Built-in superb grills, and also the Superb 2500.
Broilmaster Grill Reviews: Makes and Models
Here's the nitty-gritty of Broilmaster grilling:
Super Premium/Premium Series grills feature a stainless steel bowtie burner that disperses flames evenly, at 45,000 BTUs. The adjustable three-level cooking grids cover 695 sq. inches, and allow for grilling, baking and warming. Equipped with an electronic igniter and dual control knobs, these grills also feature a stainless steel smoker shutter and flare buster briquets.
H Series grills function a stainless steeh H-style burner at 40,000 BTUs, and has a push button electronic igniter, as wells as dual control knobs. With 653 sq. inches of total grilling, this grill utilizes Charmaster briquets for top of the line grilling.
R Series grills feature infrared grilling that provides restaurant results with steaks, chops, chicken and fish. Infrared grilling sears food rapidly to seal in the flavor and the juices. These models permit as much as 30 percent turndown for slow roasting, baking, warming, as well as pizza making.
Built-in/Built-in Superb grills offer top-notch backyard grilling that is always ready to go. This beautiful grill with stainless steel surround and accessories allow you to install any Broilmaster built-in to any island of your own choosing and design.
Superb 2500 grills offer all of the grilling important packed into their most inexpensive grill. Equipped with 3 stainless steel burners at 36,000 BTUs, you get 580 sq. inches of total grilling. These also accepts optional side burner.
Broilmaster G

rill Reviews

: What Backyard Chefs are saying…

[myebay]Broilmaster Grill[/myebay]

" Broilmaster grills are backed by a limited lifetime warranty on most models, and are built to last." ~ Chris, Atlanta, GA

"They are made with superior quality and and they stand behind their grills. These grills are fantastic for the master griller." ~ Dave, North Bay, ONT, CA

The Broilmaster's own website claims: The Most Durable Grill Known to Man. Whatever the Occasion, You Can Always Count on Your Broilmaster®..

Go back to Grill Reviews Main Page
Go to I Grill BBQ.com Home Page from Broilmaster Grill Reviews

There are a lot of kamado grill reviews saying a great deal of things about kamado grills. Is their popularity justified? Is food really better cooked on a kamado grill?
Kamados will be compared with other types of grills to determine the pros and cons of kamado grills. You can read these kamado grill reviews and decide for yourself if a a kamado grill is right for you.
Kamado Grill Reviews: What are Kamado Grills?
[amazon_search design="2″ width="300″ market_place="US" color_theme="Default" default_search_term="Kamado Grill" search_index="HomeGarden" columns="1″ rows="3″ outer_background_color="#000000″ inner_background_color="" background_color="" border_color="" header_text_color="#FFFFFF" linked_text_color="" body_text_color="" shuffle_products="True" show_image="True" show_price="True" show_rating="True" rounded_corners="False"/]
Kamado grills and smokers, also known as ceramic grills or ceramic bbq grills, go back to the ancient days when for centuries men commonly used clay and ceramic pots as ovens and smokers to cook their food. These ancient clay pots had been a precursor to the egg shape of current kamados. They function by controlling the fire, generally wood, charcoal, LP gas or electric at the bottom of the kamado while controlling the heat and smoke by controlling the flow of air. Kamados caught on within the United States when WWII servicemen brought back the design from Asia.
Kamado Grill Reviews: What are the Pros and Cons
[myebay]Kamado Grill[/myebay]
Pros of a Kamado grill:
Kamado Grills excel at giving a slow even heat. This may be the feature of Kamado grills that is unmatched by other kinds of grills. The fire, situated far below in the grill, heats up the ceramic which distributes the heat evenly all through the egg shaped grill. You will find no hot spots or cold spots in a kamado grill.
Kamado grills are exceptionally fuel effective. For instance, these grills can slow cook all day and all night with just a handful of charcoal.
Kamado grills are versatile. They are flexible with fuel choice and cooking methods. Kamados can be fueled by wood, charcoal, gas or electric. As already stated, Kamados are unsurpassed for slow cooking and smoking. However, they are also outstanding for high temperature cooking, effortlessly and efficiency reaching the high temperatures necessary for searing. Kamados can also be used as a dry stone oven for baking things like bread and pizza.
Kamado grills are extremely secure. The outside of these grill are frequently not even hot to the touch.
Kamado grills are durable. If maintained properly, 1 of these grills is most likely to last a lifetime.
Kamado grills are a fantastic looking piece of equipment. Owners enjoy showing them off as part of their outdoor decor.
Cons of a Kamado Grill:
Kamado grills are costly. Quality entry level Kamado, small table top models, will cost over $500 and full size grills can easily run nicely more than a $1000 on up $3000 or much more.
Kamado grills are heavy, lack portability and take up a lot of space. A ceramic kamado can easily weigh 500 pounds. Although usually on wheels, going up down stairs and taking the grill on an outing would be difficult.
Kamado Grill Reviews: Which One is for Me?
When you have done your analysis and decided a Kamado grill might be right for you, you will have a number of brands and models to select from. Though there dozens of brands to choose from, the following three leading brands is representative of what's out there.
The Big Green Egg – Frequently abbreviated by the acronym BGE, the Big Green Egg is designed to replicate the Asian ceramic cookers. The cooker is full featured. The 1 function that draws some complaints is that it's only wood and charcoal fired. If you're searching for the convenience of gas or electric, the BGE is not for you. Is much less costly than many other cookers, has developed a bit of a cult following and is supported well.
The Kamado Grill – This is the original kamado grill. Although full featured and well designed, complaints of lack of consumer service, lack of support, accusations of manufacturing shortcuts and difficulty in procuring replacement parts abound. Some reviewers are saying that these issue are becoming dealt with, meanwhile, buyer beware.
The Komodo Kamado – This grill is big, well built, loaded and costly. It features great consumer service and support. If you wish to go first class right away, the Komodo Kamado may be right for you.
In addition to looking at reviews, ask around and you'll likely find it unanimous: food cooked on kamados is absolutely fabulous. If you're passionate about cooking outdoors, bbq, grilling and smoking meat, kamados are something you might want to think about. Hope you enjoyed these kamado grill reviews.
Go back to Grill Reviews Main Page
Go to I Grill BBQ.com Home Page from Kamado Grill Reviews

These char-broil infrared grill reviews will assist you to figure out whether this up-and-coming backyard cooking grill will be the way to go for you.
Infrared grills are becoming known as the outdoor kitchen microwave, and Char-Broil is right at the top of this area of the grill marketplace.
Char Broil infrared grill reviews: So what's infrared?
[amazon_search design="2″ width="300″ market_place="US" color_theme="Default" default_search_term="Char Broil Infrared Grill" search_index="HomeGarden" columns="1″ rows="3″ outer_background_color="#000000″ inner_background_color="" background_color="" border_color="" header_text_color="#FFFFFF" linked_text_color="" body_text_color="" shuffle_products="True" show_image="True" show_price="True" show_rating="True" rounded_corners="False"/]
Infrared grills or burners are a new type of burner that emits 100% infrared energy–which in a nutshell, is extremely comparable to micro-wave energy–which in turn uses electromagnetic energy directed at the food you are cooking.
Infrared burners are encased in steel and placed above a number of layers of stainless steel emitters to prevent airflow and only permit radiant heat. In recent years, Char-Broil has risen to the top of infrared technologies by placing a gas burner underneath a perforated metal barrier to isolate the flame from the region in which you are grilling to create infrared cooking.
Infrared cooking generates a lot higher temperatures than other grills and can heat up a lot quicker. These grills can reach a temperature of as much as 700 degrees in about 7 minutes! This kind of cooking could be comparable to searing the meat, and locking in the juices.
Char Broil infrared grill reviews: Models
[myebay]Char Broil Infrared Grill[/myebay]
Char-Broil Red 3-Zone Infrared Gas Grill Model #4632509
The Char-Broil Red can be purchased at a fairly low price, and reaches 700 degrees with out flare-ups. You are able to sear those steaks quickly, then let them slow cook for juicy tenderness. This grill has 550 sq. in. grill area runs at about 34,500 BTUs. $600
Char-Broil Commercial Quantum Infrared 4-Burner Model # 463247209
This grill claims to be an innovative method to infrared grilling. An easy perforated sheet of stainless steel converts the output from standard gas to infrared energy. This grill utilizes 4 burners for 10,00 BTUs and 580 sq. in. of grilling. $500
Char Broil Patio Bistro Infrared Gas Grill Model #11601558
This little baby may be small–but it is mighty! This full height grill is easy to move and store yet delivers on infrared cooking technology. With this grill you get a lot of heat from a little fuel. This grill is ideal for patio grilling and offers 13,000 BTUs and 240 sq. in. grilling space. $200
Char broil infrared grill reviews

: Is infrared for me?

Keep in mind these grills heat up much faster than other grills so you are able to easily–ahem–char your meat before you'd be able to say, "I smell something burning!" All in all they are fairly impressive and powerful and you may just notice neighbors peeking out more from the bushes to check yours out!

Go back to Grill Reviews Main Page
Go to I Grill BBQ.com Home Page from Char Broil Infrared Grill Reviews