Tired of going through a whole box of matches each time you fire up the grill? Maybe it's time to try a gas grill!
Unlike other grills, gas is convenient and reliable, starting instantly and heating up in minutes. Get the satisfaction of grilling without the frustration of trying to light coals and waiting for the perfect temperature.
Gas Grills: Features
[br]Gas grills are easy to use: after turning on the valve to the gas source, a starter button produces a spark which immediately ignites
the grill. The valve register on the front of the grill regulates the temperature, and the hood can be opened or closed depending on the amount of heat needed. Think of gas as a hybrid between the kitchen stove and a traditional outdoor grill.
Natural gas and propane are the two sources of fuel for a gas grill. Although natural gas requires installing a gas line, the fuel itself is less expensive than propane. Natural gas is safer because it is connected to a gas line controlled by a valve, unlike propane which requires constant changing of the tanks.
Natural gas also has a more noticeable smell, dissipates faster, and burns cleaner than propane. However, propane grills are easy to set up ad are not tied to a gas line. Compact portable propane grills are inexpensive and ideal for camping trips and other outdoor cooking.
Although grilling is mainly an outdoor experience, indoor grills guarantee your cookout even on a rainy day! Open grills mimic outdoor grills with the heat source under the grid. Folding contact grills work like a Panini maker, cooking both sides of the food simultaneously.
Gas Grills: Pros and Cons
[br]The greatest advantage of gas is that it starts instantly and its temperature is easy to regulate. Also, it is less smoky than other grills, and clean-up is basically scrubbing down the grid–no ashes or soot to dispose of. These grills cool down quickly, reducing the risk of uncontrolled fires that other grills pose.
Gas Gr

ills

: Is it for you?

[br]If you get frustrated with the the time firing up the grill takes, with burning your food because you tried to cook it too soon, or with cleaning out ashes after the grill finally cools down, consider switching to a gas grill.

Go back to Types of Grills Main Page
Go to iGrillBBQ.com Home Page from gas grills
A built in grill is a bold and sizzling way to add equity to your home and beef up your overall grilling experience.
Bar-b-que grills like this are increasing in popularity as many are discovering the perks of owning one for themselves.
Built in Grills: Features
[br]So what makes this such a hot item? Many find that they eliminate the hassles that tend to go along with outdoor grilling. They also set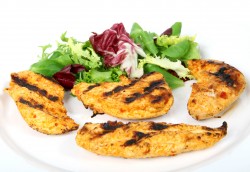 up the perfect basis for creating an outdoor kitchen area. They come with a variety of desirable features such as warming drawers or cocktail stations – or whatever else you may dream up.
As with other types of grills, many different models are available such as propane, natural gas, propane, duel fuel, and hardwood, as are many different sizes.  When it comes to your grilling needs, you should be able to find a style of this grill that will suit your needs perfectly.[br][br]
Built in Grills: Pros and Cons
[br]When you build a grill into your outdoor living area, you are increasing the value and saleability of your home. This is definitely a perk. And as already mentioned, there are many features which can be added that other types of grills don't offer. They're also easy to assemble, safer to use, and they're known to provide flawless heat distribution which ensures your food will turn out just as you planned. Perhaps one of the downsides to built in bbq grills is their initial cost, but when viewed as an investment, most find it to be well worth it.[br][br]
Built in Grills

: Is it for you?

[br]What it seems to boil down to then is whether or not a grill like this is for you. It depends on what you are wanting out of your grill.  They have been referred to by many as an essential or must-have item, and are not going to be fading out anytime soon. If you are looking to do a little grilling at a park, a standard portable charcoal grill is fine, but if you're looking to take your at-home grilling experiences to the next level – a built in grill is where it's at.

Go back to Types of Grills Main Page
Go to iGrillBBQ.com Home Page from Built in Grills
Summer family fun is the smoky flavor of  juicy hamburgers fresh off the charcoal grills. On vacation or at home, charcoal grilling adds an extra level of fun to any meal!
Nothing beats the flavor of food cooked over a charcoal grill, or the control you have when using charcoal. Forget the microwave and try your hand at real cooking!
Charcoal Grills: Features
[br]All charcoal burning grills have a pan for the fire and an adjustable grid for cooking. The height of the grid above the fire and the amount and arrangement of the charcoal control the temperature. Charcoal is more flexible regarding temperature than other grill
styles since charcoal arranged closely together produces an incredible amount of heat.
Although the basic features of  charcoal burning grills are the same, styles and prices vary. Square grills have a shallow pan, an adjustable grid, and a lid with vents. They are simple and inexpensive, ranging in price from $60 to $100.
Kettle grills are round with a deep lower chamber, an adjustable grid, and vents in both the lower chamber and the lid. Both the depth of the chamber and ventilation system better control and circulate the heat than other styles of grills. Slightly more expensive, the price of kettle grills ranges from $70 to $140.
Cart  grills are the upscale version of these grills: similar in shape to gas grills and having an ash tray that makes clean-up easy. Like other grills, the grid is adjustable and vents help control the heat. These grills are expensive (but very nice), ranging from $2,000 to $2,800.
Charcoal Grills: Pros and Cons
[br]In a day of microwaves and fancy kitchen tools, charcoal grilling has an appealing simplicity and gives you control as the chef. You can use the wide range of temperature to your advantage. And the flavor charcoal adds to food is well worth the extra effort.
However, starting the fire can be difficult, and once the fire starts, controlling the heat may prove challenging. After grilling, cleaning out the grill and disposing of the cooled ash can be a messy job.
Charcoal Grills

: Is it for you?

[br]The simplistic style of charcoal grilling requires extra effort, patience, and some skill from the chef, but also rewards that effort with a feeling of satisfaction when your family and friends bite into those juicy hamburgers fresh off the charcoal grill!

Go back to Types of Grills Main Page
Go to iGrillBBQ.com Home Page from Charcoal Grill
Need a contact grill? Are you stuck inside your apartment again, nothing in the kitchen cabinets but ramen, spaghetti, and frozen pizza?
Are you in need of a hot sandwich, but can't fit an oven in your tiny workspace?  Maybe what you need is a contact grill.
Contact grills (the smaller ones are just called sandwich makers) have seated surfaces not only beneath your food, but over it as well.  The food is sealed in, giving you a quick, easy bite of homecooked tastiness.
The George Foreman Grill is a great example.  It is, in fact, the "iPod" of contact electric grills.  Just as the iPod is the only mp3 player people want to buy, the George Foreman Grill is the premier contact grill on the market.
Contact Grills:

Features
Most contact grills are cleverly designed to have a low footprint.  They use nonstick surfaces that often press the food into a unique, hot pocket-ish shape.  They're also extremely easy to clean—often more so than the dishes you eat the food off of—and don't produce the smoke that larger grills do.  Fantastic for dorm rooms or small apartments, they're are often the lowest-priced variety of grill.  Though they are designed for a specific purpose that sets them apart from other types, they definitely fill a need.
Contact Grills: Pros and Cons
Contact Grills make fantastic sandwiches.  More expensive varieties are used to produce premium deli-style Panini sandwiches in restaurants.  Smaller indoor grills can produce a similar culinary effect, lightly crisping the outside of a sandwich and making the inside warm and tasty.
This type of grill is definitely not for the barbecue.  You won't find yourself making standard-issue hamburgers on these grills.  Typically, a consumer-level contact grill does not produce the same variety of dishes that charcoal or propane grills can.  They are unique, and therefore are used to make unique foods.
They are often small, highly portable, and inexpensive.
Contact Grills: Is it for you?
Though small and specific in purpose, indoor grills definitely hold a special place among the varieties of grills found in the marketplace.  If you're on a budget, live in a tight space, and need your food cooked fast, then there's no question you should purchase one.  If you're looking to hold an epic, porterhouse steak bar-b-q, then you'll probably want to look into something else.
Go back to Types of Grills Main Page
Go to iGrillBBQ.com Home Page from Contact Grills
Feature rich electric grills are fast, efficient and safe. With all the different grills out there, how can I know if an electric grill is right for me?
Electric powered grills and smokers offer features that other types of grills and smokers cannot. Here are some tips that can help you decide if an electric grill can meet all your grilling needs.
Electric Grills: Features
[amazon_search design="2″ width="300″ market_place="US" color_theme="Default" default_search_term="Electric Grills" search_index="HomeGarden" columns="1″ rows="3″ outer_background_color="#000000″ inner_background_color="" background_color="" border_color="" header_text_color="#FFFFFF" linked_text_color="" body_text_color="" shuffle_products="True" show_image="True" show_price="True" show_rating="True" rounded_corners="False"/]
Electric powered grills are not as popular as gas grills and charcoal grills but they have a useful and secure place in the family of grills. Since they run on electricity, these grills have some features that gas grills and charcoal grills cannot offer. Electricity as a fuel for grilling is fast, efficient, clean and easy to use. However, the overriding feature of the electric grill is that it can used indoors and in places where other types of grills are often banned, such as balconies in multi-unit dwellings.
[myebay]Electric Grills[/myebay]
Electric Grills: Pros and Cons
Pros: There are several positive things to say about electric powered grills and smokers. Some of these features might temp you to start looking around for one.

Fast fire up time, you can be up and cooking very quickly.
Consistent, even easily controlled heat; even heat across the entire grill.
Low maintenance; no residue to clean up; no tanks to replace; no charcoal and ashes to mess with.
Good fuel for smokers; steady low and slow heat, easily controlled; set and forget it until the meat is done. Electric fueled smokers have grown in popularity.
Unlike gas and charcoal, can be used indoors; this is the biggest selling factor for electric powered grills.
For safety reasons, sometimes gas and charcoal grills are banned in some circumstances where electric powered grills are not. A common example of this is on the upper balconies of multi-unit residential buildings.
Smaller tabletop versions, such as the George Forman line, are readily available.
You can often get electric fueled grills for a fraction of the cost of other grills.

Cons: With all those positive features, you might think that everyone would own an electric grill. Well, electric powered grills and smokers are not perfect, and here are some things people do not like.

Though they are great indoors, electric powered grills can be awkward out of doors; you will need to run an extension cord or have an outdoor outlet near the grill.
Electric powered grills lack portability; because they need a power source, they are difficult to use on a camping trip or at the beach.
Grilling purist claim electric powered grills cannot produce the grilled flavors of the other fuels, especially charcoal.
It might be hard to put ones finger on it, but for some reason, when you are outdoors, cooking on an electric grill is just not as much fun as cooking on a blazing fire or white hot coals igniting the drippings from a juicy steak.
Electric Grills: Are They for You?
There are a lot of pros and cons with electric grills. They might not be for everyone, but there are many positive features, and many people who could benefit from those features. If you live in an apartment, trailer or like grilling in the dead of winter, an electric powered grill may be your best option. There are many people with electric grills who have learned to cook some delicious foods on them. Just ask George Foreman.
Go back to Types of Grills Main Page
Go to I Grill BBQ.com Home Page from Electric Grills
Infrared grill technology is a brand new advancement in home barbeque grills, although it has been used for years in restaurants and other commercial settings. Now you can use this method to get the same great taste at home that you pay for when you go out.
If you've been looking for a way to get your grilled meats to cook more evenly and quickly, with less time spent cleaning up afterward, an infrared grill is definitely worth a closer look.
Infrared Grills: Features
Heated by gas or propane, an infrared grill uses ceramic or stainless steel construction to transfer very high temperatures directly to the bbq on the grill rack. This method carries many advantages over the tradition convection system used in traditional grills. A higher temperature means less time cooking, which keeps meat juicy and tender. Direct heat results in an even, thorough doneness that is difficult to achieve with convection cooking. Partly because of its new technology, an infrared grill tends to cost more than a standard charcoal or gas grill, but reviewers agree that the high quality of the resulting meals makes it well worth the extra expense. You may just find that your already-delicious bbq can be made extraordinary with the help of this product.
[myebay]Infrared Grills[/myebay]
Infrared Grills: Pros and Cons
The bottom line for infrared grills is very simple: Evenly cooked, juicy, delicious barbeque that cooks with less attention and preparation than traditional grill designs. The ceramic or stainless steel surfaces inside the grill make cleanup a very simple and quick job, allowing you to spend more time enjoying a picnic instead of cleaning up the grill. The only disadvantage is the slightly higher cost. Purchasing a used grill or keeping an eye out for special offers may get you a better price.
Infrared Grills

: Are They For You?

Up until recently, the patent on the design for

infrared gas grills

restricted it to commercial use. If you've ever wondered how your favorite restaurants get steak, burgers, ribs, and chicken done perfectly in such a short amount of time, the answer is now available in a grill that you can put in your own backyard. Every bar-b-q enthusiast owes it to himself to investigate this brand new technology and see how it can take his talent to the next level.
Are you looking for a way to make your grilling experience unique? Try Homemade Grills.
If you are looking for a way to add an individual touch to your backyard barbecue, building your own grill is a fantastic project to consider.
The advantages to building a grill at home are numerous. Besides the money you will save, the knowledge and experience you gain will make you an all-around bbq expert on your very own unique grill.
Homemade Grills: Features
The possibilities are endless when designing your own homemade grills. Do you simply need a small charcoal grill on which to cook a dinner for two once in a while? Does your company need a giant trailer-mounted barbeque for corporate events? Do you have a revolutionary design idea that you think may be the next big thing? Once you've gotten your ideas organized, you can start getting the materials and tools to build your masterpiece.
Whether fired by charcoal, propane, wood, electricity, or a less common heat source, you should take care to make sure that the materials you use are able to withstand the heat that is produced. Unexpected risks like harmful fumes produced by certain materials should also be researched thoroughly. Investigating commercially built grills can help you find which types of designs, shapes, ignition mechanisms, and safety features have proven successful.
Even if your only reason for building your own grill is the cost savings, consider adding a unique feature to your homemade grill that you think will enhance its functioning. Many of the most popular new grills manufactured today began in someone's backyard.
Homemade Grills: Pros and Cons
As we've already seen, building your own grill saves you money, gives you the opportunity to experiment with potentially game-changing ideas, and allows you to make your entire bar-b-q experience completely homegrown. If you are not naturally handy, though, it may be worth your while to enlist some experienced help to avoid having your creation burst into flames or melt the first time you fire it up.
Homemade Grills: Are They For You?
Perhaps you've tried all the grill types (homemade charcoal grills, homemade gas grills,homemade smoker grills) on the market and come up disappointed. Perhaps you are looking for a way to get your great idea out there before the public, or maybe you are just looking for a reward summertime project. In any case, building homemade gas or charcoal grills is a great idea that will exercise your creative mind, impress your friends and family, and give you a sense of deep satisfaction as you eat delicious barbeque straight off your "Insert Name Here" grill!
Are you ready to have a cookout at your small apartment or college dorm room? Travelling and can't live without your grill? Try a portable grill!
If you're pressed for space, you'll definitely be looking at a portable grill that both saves space and enables you to smoke some great barbecue.
Portable style grills come in nearly infinite varieties, each with distinct advantages and disadvantages.
Portable Grills Features
[br]Mobile grills are designed for portability. They are not mounted on a beautiful brick assembly in your back-yard. These grills are
designed for the tailgate party, the campout, or even the dorm room barbeque. They save space, and are an essential for a camping trip or football event. They come in four varieties, each with distinct features:
Portable charcoal grills are a smaller version of the old-school, smoke-billowing grill your Dad used to use. If you don't have neighbors—or a college fire code—to worry about, a portable charcoal grill may be for you.
Portable gas grills use propane to cook your delicious bar-b-q, which gives the grill man control over the cooking temperature. Safe storage of the propane is essential, but mature handling of the tank makes this a highly effective grill.
Portable electric grills are a great alternative if you need to cook indoors. This type of grill not only produces less smoke, but cooks in a healthier manner. There's less grease, and a more locked-in style of flavor.
Finally, Portable infrared grills cook the meat faster—and in many cases, better—than the above portable grill alternatives. However, with all new technologies, the primary downside is price. Portable infrared grills are also more rare and, frankly, much more expensive. But if you're after a premium cookout experience, a portable infrared grill is for you.
Portable Grills Pros and Cons
[br]The portable grill's distinct advantage is that… well, they're portable. You can haul your grill to a campout, cookout, friend's house, or to a new place of residence. This is an advantage that larger, mounted grills, though classier, just don't have.
However, a portable grill has its downsides. Most portable type grills don't have the premium controls of their larger cousins. In addition, they aren't designed to create a feast for huge groups of people.
Portable Grills Is it for you?
[br]There are thousands of varieties of grills out there… but only one for you. If you want to enhance your campout, tailgate party, small apartment, or dorm room, then consider adding a portable grill to your cooking arsenal.
Go back to Types of Grills Main Page
Go to iGrillBBQ.com Home Page from Portable Grills
Ceramic smoker grills have become all the rage with backyard cookers and serious aficionados. What are they and why are they so popular?
Ceramic smokers and grills come with a variety of features and in different sizes – and they are incredibly versatile. If you do your research you will find one that can meet all you outdoor cooking needs.
Ceramic Grills: Features
[br]Ceramic smokers and grills, also known as kamados, are a throwback to the clay pot ovens and cookers that have been used for centuries, even sharing the egg shape of ancient clay pots. These cookers started to become popular in the United States when servicemen, returning from the Pacific theater in WWII, recognized the functionality, versatility and usability of kamados for American cooking and grilling. Kamados are rich in features including:
Efficient; hold heat well, requiring less fuel; makes them outstanding efficient smokers
Consistent, easily controlled fire
Perfect for low and slow cooking
Searing temperatures reaching more than 700 degrees; handles these temperatures safely and easily
Can be used as a conventional brick type oven for baking things like bread and pizza.
Ceramic Grills: Pros and Cons
[br]When shopping for kamados, you will find that there are about ten recognized brands. The differences often involve things like size, shape, weight and quality. There are some pros and cons concerning outdoor cooking using kamados. They include,
Pros:

Exceptionally fuel efficient; can do a full 24 hour day of low and slow cooking with less than two pounds of charcoal
Exceptionally safe; the outside of the unit is usually not even hot to the touch
Versatile; can be used as a conventional grill, smoker grill or dry stone oven
Durable; a well maintained kamados can easily last a lifetime

Cons:

Kamados tend to be expensive; they usually cost between 500 and 1000 dollars depending and the size and quality of the brand
Kamados are heavy and lack portability
Ceramic Grills

: Is It for You?

[br]If you are at all enthusiastic about outdoor cooking, bbq or smoking meat, ceramic smoker grills are certainly something you should consider. Ask around and you will likely find it unanimous: food cooked on kamados is absolutely fabulous. Combine that with the classic, ancient design, the efficiency, versatility, durability and safety, ceramic grills should be under consideration for your next outdoor cooker.

Go back to Types of Grills Main Page
Go to iGrillBBQ.com Home Page from Ceramic Grills
Just the mention of roasted chicken makes your mouth water, but have you ever considered the versatility of a rotisserie grill for yourself?
From turkeys to roasts to chicken, a rotisserie grill makes any meal a gourmet event; you do not have to go to a fancy restaurant to enjoy a juicy, tender bite.
Rotisserie Grills: Features
[br]Whether you go with an independent rotisserie grill system or a rotisserie kit that attaches to your present grill, there are some key features to look for. The most important feature to look at is the actual spit, the rod that passes through the meat and rests on the brackets of the turning system; most spits are 20-40 inches, but some systems come with spit extenders. You also want to make sure that the skewers or forks are durable and will not bend under the weight of the meat.
Drip trays to collect the juices and roasting baskets to cook veggies or smaller portions of meat are other convenient features to be considered. When looking at the rotisserie motor, a twin direction motor is best; this motor reverses direction throughout the cooking process to provide even more balanced heating. A fun alternative to the traditional grill rotisserie  is the version that goes over a campfire; you don't have to confine your camp-out fare to just hamburgers and hot-dogs, though those can be cooked on a rotisserie as well.
Rotisserie Grills

: Pros and Cons

[br]Everyone knows that roasting your meat is much tastier and more nutritious than frying. By turning on a spit, the meat maintains its juices, moving them over and through the meat instead of dripping them out; however, more fat is eliminated in the roasting process. And with roasting baskets, you can also cook up some delicious veggies to go with your meat. Now roasting is not a quick process, but the end result is well worth the wait; because you are cooking large pieces of meat, the whole animal in some cases, it will take longer to cook.[br][br]
Rotisserie Grills: Is It For You?
[br]If you are looking for a more healthy but tasty way to eat meat, then a rotisserie system for your grill is a great alternative. And there are so many trusted name-brands to choose from: Weber, Char-Broil, and of course George Foreman. Roasted chicken, roasted lamb, roasted beef—they are not just for the oven anymore, and they are not just for the market or restaurant. A rotisserie grill gives you the opportunity to turn out juicy, fall off the fork meat dishes worthy of the gourmet chef.
Go back to Types of Grills Main Page
Go to iGrillBBQ.com Home Page from Rotisserie Grills